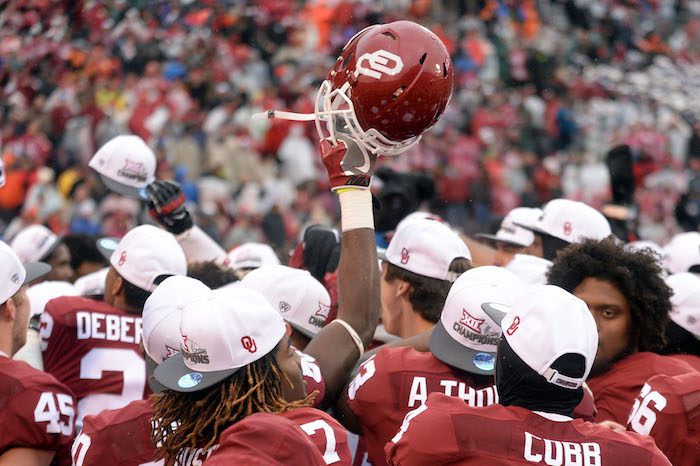 TCU kicked things off in the Big 12 after hosting the first spring game in the conference last weekend. Two more Big 12 schools will host their spring games this weekend including the Oklahoma Sooners. Things may look a little different this year if you are heading out to Norman because there will be a live performance by country music artist Trace Adkins before the game. Also, this will not be your traditional offense vs defense type of scrimmage. The roster was split into two teams with the red team (Coached by Trent Williams) and the white team (Coached by Adrian Peterson). These teams were made to be as even as possible by the coaching staff and it will be interesting to see how things shake out. Shine up those boots and bring your cowboy hat and be sure to watch for these three things during the Oklahoma spring game (Kickoff at 1:15 PM).
Editor's note: Of course, injuries or injury prevention could cause who plays on Saturday to change.
QB Kyler Murray (White Team)
This is probably the biggest storyline in the entire Big 12 during spring football, right? Oklahoma is replacing a Heisman trophy winner at quarterback and it appears that the guy is going to be Kyler Murray. Kyler has the talent to keep the train rolling at Oklahoma but after watching three straight years of Baker Mayfield, expectations are sky high for this young man. In my Oklahoma spring preview, I said that Kyler Murray has the skillset to be an excellent quarterback and with Lincoln Riley calling the offense, anything is possible. Does his size concern me? Yes, but the ceiling is very high for Kyler and don't forget that he was a former 5-star quarterback coming out of high school. I am very eager to see Kyler in action on Saturday and don't forget about the other quarterback in this "race" in Austin Kendall.
Defensive Line
Even though the defense needs work from top to bottom, I felt like this unit will need to take the biggest step forward this year if Mike Stoops is able to turn this defense in the right direction. Oklahoma must replace some guys up front from last year's team and it looks like the key guys up front will be defensive ends Kenneth Mann and Ronnie Perkins (Freshman) along with defensive tackles Neville Gallimore and Tyreece Lott. Also, nose guards Marquise Overton and Dillon Faamatau will be in the rotation as well. While they are on different teams on Saturday, keep on eye on some of these guys because they will play a HUGE factor if Oklahoma is able to be successful on the defensive side of the ball. One name I do want to mention is Armani Bledsoe who hopefully can get things rolling for this defense.
DB Brendan Radley-Hiles (White Team)
Defensive backs coach Kerry Cooks has been very vocal about Brendan Radley-Hiles otherwise known as "Bookie". Cooks has praised Bookie quite a bit in media availabilities and it has got me wondering, is the hype real? I saw Bookie play in person at the Army All-American bowl and the kid can flat out ball. But this will be the first time we can all see him live going against an offense, so all this hype has led up to the spring game. Can he be a game changer in the secondary that the Sooners desperately need? Hopefully we can get a better answer of that on Saturday.