Big 12 News
Big 12 Conference Sets Record for Revenues with $365 Million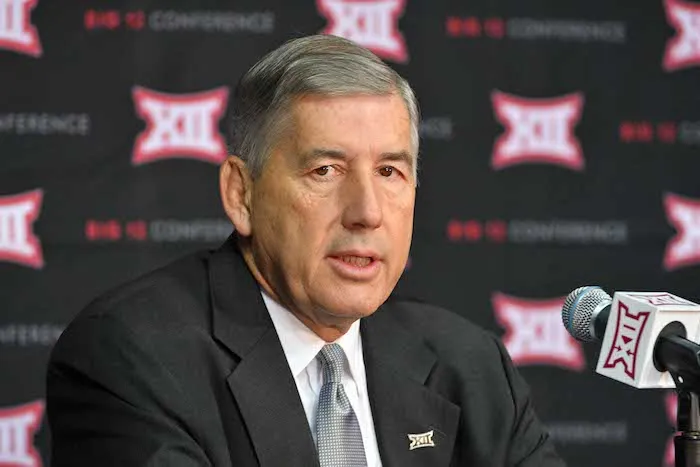 The Big 12 Conference wrapped up its spring meetings on Friday and announced it had another record revenue year, reeling in $365 million for the 2017-18 academic year. That is the 12th consecutive increase for the league.
Since the Big 12 has only ten schools, which makes the math easy for even the dullest of us, that's about $36.5 million per school. Commissioner Bob Bowlsby did add that there are some variances, about $2.5 million between the top and bottom of the league based on member participation subsidies.
This is a nice increase for the Big 12, which generated about $348 million last year and reportedly it could increase to nearly $40 million per school next year.
And it looks like the conference has zero regrets in not expanding to 12 teams, as board of directors chairman and West Virginia president Gordon Gee said, "I think the advantage of the Big 12 teams is we're only 10 teams. We're agile. Sometimes it's difficult to get 14 teams or 12 teams or people with different views. I know when I was the chairman of the Southeastern Conference, which I was for several years when I was at Vanderbilt, we would all agree on something and then as soon as we left, we'd disagree." 
The Big 12 ranks third of the Power 5 conferences in revenues per school. The SEC leads the way at $41 million per, the Big Ten is at $38.5 million and then its the Pac-12 ($31 million) and ACC in the $26-27 million range.
The Big 12 made up some revenue because the Sooners made the College Football Playoff and seven other teams making bowl games, plus millions from the Big 12 Championship Game, but the conference did lose $40 million because their was no Sugar Bowl appearance as it was a National Semifinal this past season.
Another bonus: Third-tier broadcasting rights that all Big 12 schools have are not included in the $36.5 million, which ranges from a couple million up to $15 million for Texas for its Longhorn Network.
Also, the Big 12 is still withholding 25 percent of Baylor's revenue in escrow following the sexual assault scandal from two years ago.