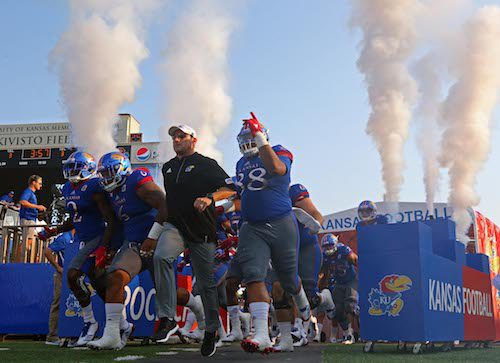 With Kansas searching for a new athletic director, all eyes have turned to whether or not David Beaty remains the head coach of the Jayhawks in 2019. Barring a miracle of 3+ wins, most don't see Beaty hanging around to see another season.
At CBS Sports, Dennis Dodd wrote a great piece where he discussed how difficult the KU job is and the overriding theme was that the Jayhawks need to start getting their act together on the football field, at least respectably, to remain in a Power 5 Conference. Dodd cited programs like Duke and Wake Forest that are smaller schools that identify more closely with basketball, but have made their programs mediocre and sustainable on the football field.
The shocker, though, came when Dodd spoke to an anonymous coach with Power 5 and NFL experience who said, "That's the job I want. I have circled Kansas. I have been researching it."

My first thought, "who the hell could this be?" Secondly, "how drunk did Dodd get him before this quote?"
Regardless, it's a good sign that there are coaches who see some potential in the Jayhawks. The program is dumping $300 million in facility upgrades, which is necessary, and the team plays in the Big 12 and has a pipeline to Texas. Plus, Lawrence is one of the best college towns in America.
The Big 12 being a round robin league makes it tougher to advance up the ranks because the schedule never has an "easy year" that helps build the momentum on the field and then in recruiting.
Regardless, Kansas needs to realize that to get the right coach at the right time, it will have to overpay. They went cheap hiring Beaty. And if nothing else, throwing big bucks at the right coach will pay for itself many times over as KU tries to turn around a program that is going on a decade of irrelevancy.