Big 12 News
Bill Snyder to Continue with Alex Delton, Skylar Thompson Against Mississippi State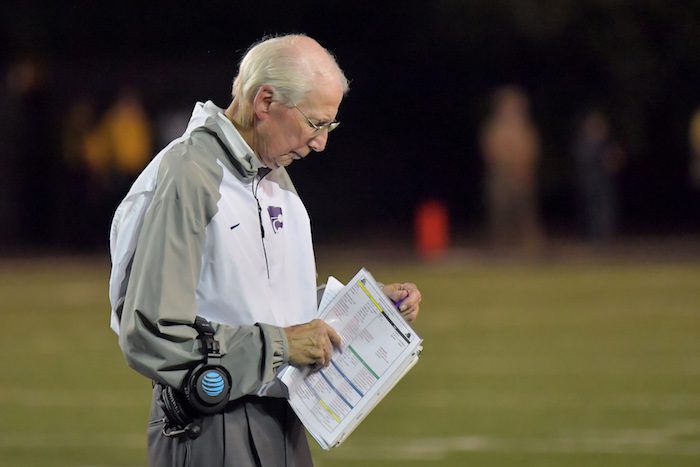 Don't expect Kansas State to figure out its quarterback situation anytime soon. As the Wildcats prepared for their season opener against South Dakota, Bill Snyder remained ho hum on who his starting quarterback would be. My thought process was that he would play both quarterbacks to keep Mississippi State guessing in Week 2. As it turns out, it's Bill Snyder, rightfully so, who is still guessing as to who his best quarterback might be.
Snyder confirmed Monday that both quarterbacks will be on the field against the Bulldogs this weekend, saying, "both of them will play a significant role and play," just as they did last Saturday.
Snyder added, "Skylar and Alex both had their positive moments and both had their negative moments. I think, again, there wasn't a dramatic separation between the two."
They each sure did. Thompson finished 8 of 14 for 61 yards, along with 11 carries for 58 yards. Meantime, Delton struggled passing, finishing 5 of 14 for 91 yards and an interception, plus 12 carries for 78 yards.
Snyder also stated the obvious on the Big 12 teleconference, pointing out, "There were some decent things that they did during the course of the ball game, but they didn't play nearly as well as I anticipated and hoped that they would."
I thought it was Thompson who was the better of the two on Saturday, but it was far from impressive. Frankly, I think the reason Snyder is willing to give Delton another chance this week has nothing to do with Delton's play, but more to do with how lackluster Thompson's play was at times.
We'll see how it plays out, but both players appear like they will be out on the field against a Mississippi State Bulldogs team that blasted Stephen F. Austin 63-6 on Saturday and has one of the best defensive lines in the SEC and quite possibly the country.