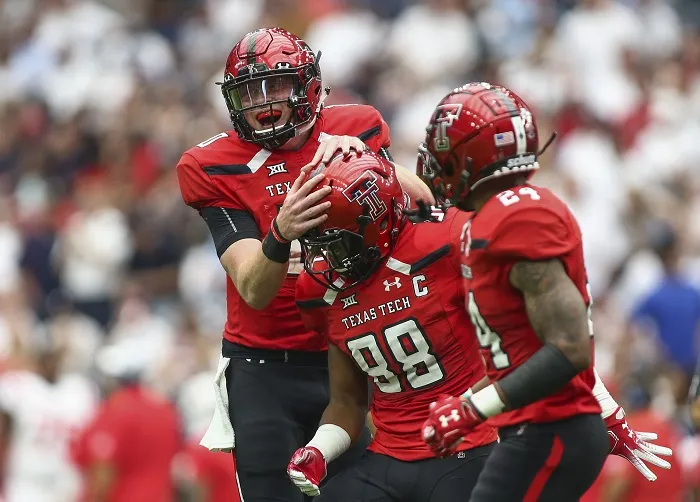 Welcome to the HCS Big 12 mailbag. This mailbag is for all you football junkies out there who root for a Big 12 school who not only have questions about your team, but other teams in the conference as well. So, join me, grab a cold brew or your favorite drink and relax as I answer all your Big 12 questions in my mailbag. For those interested, I will send out a tweet (@Derekduke25) every Monday at noon until last call (No, not 2 AM) at 8 PM CT for you to send in your questions to be answered every Tuesday right here at Heartland College Sports.
I will pick the best question for each mailbag and label it as my question of the week. The winner gets a free HCS Koozie to keep your beer cold (Unless you like it warm, but that's just plain wrong). It was busy question day which tells me that this mailbag is working harder than me at my day job. Unlike the "Big 12 blog" over at ESPN (I say that loosely because one story a month is a tragedy), we here at HCS are determined to give you the best Big 12 coverage on the planet. I want to thank each one of you who submitted a question this week and for those reading, I am glad you could join me. I am enjoying a late beer myself to help me work my way through the mailbag. I had so many questions this week, I had to break it up into two posts. So, the first part will be Tuesday and the part two will be Wednesday so don't worry, your question will be answered. On to part two of the mailbag!
@brkniffin asks: Who is under the most pressure to get a W after a week 1 loss? Tom Herman, David Beaty or Ryan Gosling (Kliff Kingsbury)? Who gets fired first and when? End of week 2 or end of the year?
Duke: Man, this one is tough. All are under serious pressure in week 2 but I feel confident about Texas Tech beating Lamar and I feel good about Texas beating Tulsa. However, I don't see how anyone can be confident in Kansas beating Central Michigan on the road. So, my answer here would be David Beaty. As far as who gets fired first, it shouldn't be a surprised but after losing to Nicholls at home, I don't see how David Beaty makes it past this season at Kansas.
DaleMcD94254640 asks: Does TTU have a high school defense or middle school?
Duke: That's one hell of a user name, how in the heck do you remember all those numbers if you have to log in? Anyways, I know Tech had a horrible showing week one against Ole Miss, but the Rebels are legit on offense. However, there was no excuse for how the Red Raider defense played last Saturday. They simply didn't show up to play. I think that one game won't define them for the year and I still think they will have a middle of the pack Big 12 defense when the season ends. Let's see a few more games before we label them as "High School" or "Middle School".
@sox_guy99 asks: Where will Kingsbury coach next year?
Duke: Jeez, the hate for Kliff Kingbury in this mailbag is REAL. It seems like everyone is already packing his bags for his next coordinator gig. Look, Texas Tech AD Kirby Hocutt has a lot of time and money invested in Kliff Kingsbury and trust me, he wants him to succeed BADLY. Not only because it makes him look good but because Kliff is a golden boy in Lubbock being a former quarterback there. Now, to answer your question, I think Kliff will be back for 2019. I have written him off before and if they didn't let Kliff go in the past two seasons then I think his leash is longer than what most people think. It's bowl game or bust for Texas Tech and sadly, that has become the football standard there since Kliff took over.
@Shroudedllama asks: I know the competition wasn't great but what did you think of OSU RB Chuba Hubbard? I see a future star.
Duke: I may have been just as excited as you Dave to watch him play. For sure, I think he will get some decent numbers on limited touches this season but I can't wait for the 2019 season since Justice Hill will likely be in the NFL. The way Mike Gundy talks about him gets me excited. I am not going to say future star this yet, but the talent is certainly there to make that possible. I will get a much better gauge of him once the season gets rolling.
@r1chardr0ble5ii asks: Does the Big 12 have the longest games? I swear the refs stop the games and review so much. Doesn't seem to happen in the other conferences. Maybe it's just me.
Duke: Not sure what the stats are on that and wouldn't even know where to find something like that. What I do know is that the folks are trying to figure out how to shorten games in general, so they don't last 4 plus hours. I think there is so much going in the Big 12 because of all the tossing of the pigskin. Throwing incomplete passes will increase game time obviously and when you throw the football as much as the Big 12 does, games can feel like centuries sometimes (Especially Kansas games). As far as replay reviews in the Big 12, I can go outside to the barbeque pit, smoke an entire brisket and by the time I am ready to eat, the call is finally in. I suggest you find something to due during some of these replays.
@TurnTwo21 asks: Oklahoma loses one game…in Morgantown but after that lone loss, the defeat a 10-3 WVU in Arlington. Does OU get in over 1-loss Washington?
Duke: So, in this specific scenario, I say yes because WVU will be a top 25 team this season and Auburn likely won't win their division who beat Washington in week one. However, in this case both teams would be 12-1 conference champions. I think the Pac-12 is much weaker and that has proven itself true over the last couple seasons. It's much harder to go through the Big 12 than it is in the Pac-12. But, unfortunately, it's not my decision it would be up to the CFB Playoff committee and when it comes to the Big 12 for those guys, they would be more than happy to leave the Big 12 on the outside looking in. For me, the answer is yes. For the CFB Playoff committee, don't hold your breath.
**Sign up here for our HCS weekly e-mails for a chance to win FREE Heartland College Sports and Big 12 team gear!!**