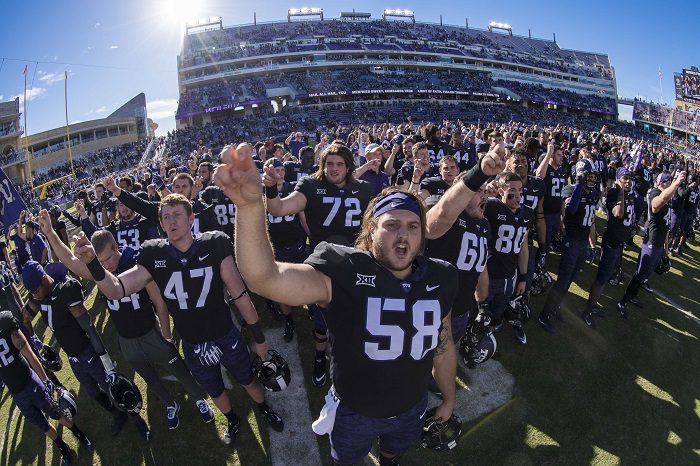 Here is everything you need to know about the Horned Frogs' game with SMU in our TCU vs. SMU preview.
Game Info
7 p.m. Central Time, Friday, Sept. 7, 2018, Ford Stadium, Dallas, Texas
TV: ESPN2 (Clay Matvick, Dan Orlovsky and Paul Carcaterra)
Radio: WBAP 820 AM, KTCU 88.7 FM, SiriusXM 84
Key players
TCU
QB Shawn Robinson. He proved efficient against Southern, going 17-of-24 for 182 yards and 3 touchdowns. He also rushed for 45 yards on two carries. Expect the DeSoto, Texas, product to have another solid outing on Saturday against SMU, which gave up 461 passing yards to North Texas quarterbacks, including Conference USA Player of the Year candidate Mason Fine.
WR Derius Davis. I think the freshman from Louisiana may not need that redshirt. Davis scored twice against Southern, including on a 73-yard kickoff return. He caught 3 passes for 49 yards and a score. We know about Kavontae Turpin and Jalen Reagor. But if Davis gives the Horned Frogs another option, then watch out.
LB Garret Wallow. Who in the heck is Wallow? He's a sophomore linebacker who had eight tackles as a freshman last season. Against Southern, Wallow had 4 tackles, 1.5 tackles for loss and 1 sack. So better start tracking him now.
S Nico Small. He had 5 tackles (tied for best on the team) and 1 pass break-up vs. Southern. The senior leader in the defensive backfield is off to a good start.
SMU
QB Ben Hicks. He's been down this road before against TCU. Last week against UNT he threw for 252 yards, 2 touchdowns and an interception. The curious part is he only attempted 24 passes. He's used to more volume. But, then again, the UNT defense did a number on the Mustangs. The problem is the TCU defense is definitely another step up in caliber.
RB Braeden West. The veteran back is going to be the most valuable piece in this offense, and not just this week. He rushed for 26 yards and a touchdown and caught 3 passes for 86 yards and a touchdown against UNT. He'll be the offensive piece to watch on Friday night.
DT Patrick Nelson. SMU lost some key contributors on defense from a year ago, and Nelson seems poised to fill the void. He had 10 tackles, 3 tackles for loss and 1.5 sacks against UNT and seemed to be the one player that could impact the quarterback.
DB Rodney Clemons. He was one of two SMU players with a pass-breakup last week. He also led the Mustangs with 11 tackles. Expect Clemons to draw TCU's best receiver in pass coverage.
Key storylines
This is the Iron Skillet Game, with the winner of this rivalry game taking home a large iron skillet.  The Horned Frogs hold a 50-40-7 edge over the Mustangs in a series that began with a 43-0 TCU win in Fort Worth in 1915. TCU has won 10 of the last 11 games with SMU and 16 of 18.
TCU
The next two weeks could be huge for TCU as it attempts to leap into the AP Top 10. Now at No. 16, the Horned Frogs would get a small bump with a win over SMU, but a more significant one if they can beat Ohio State in two weeks. Not one to overlook any opponent, head coach Gary Patterson seems certain to keep his players locked in on the Mustangs, especially with one less day to prepare. The Horned Frogs were quite balanced offensively against Southern and gave up only 185 total yards defensively. Another week of that sort of balance and efficiency would have the Horned Frogs ready for the Buckeyes.
SMU
SMU is 0-2 with Sonny Dykes as head coach, dating back to last year's bowl loss to Louisiana Tech. That said, the Mustangs have some experience back at key areas, but figure to struggle finding replacements for their key wide receivers from a year ago, Courtland Sutton and Trey Quinn. That could hamper the offense in the early stages of the season. North Texas was supposed to be the Mustangs' "easy" win, and after TCU they travel to Michigan to face the Wolverines, now smarting from their loss to Notre Dame. A 0-3 record entering the league opener against Navy is quite likely.
Prediction: TCU 44, SMU 17. It's a rivalry game, so you can never be too careful if you're the favorite. But the Horned Frogs have flat dominated the series and, based on the Mustangs' dismal showing against North Texas last Saturday, this should be a game where TCU claims the win. Last year's game was a 20-point win for the Horned Frogs. The last time the game was close was in 2012, when TCU won by 8 points. Expect the Horned Frogs to get the opportunity to play a lot of different players again this week, in preparation for the Sept. 15 showdown with Ohio State.