Big 12 News
Big 12 Basketball Round Up January 22nd: Jayhawks Comeback, Bears Roll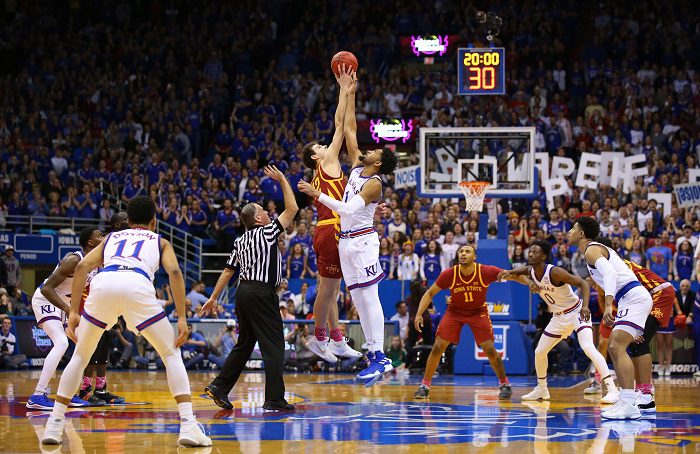 Iowa State smelled opportunity. Kansas sought redemption. And those of us that love Big 12 basketball got one heckuva show on Big Monday.
The Jayhawks (16-3, 5-2 in Big 12) ultimately protected Allen Fieldhouse with an 80-76 win over the Cyclones (14-5, 4-3). It was, of course, forward Dedric Lawson that led the charge all night. With 29 points and 15 rebounds (7 of which came on the offensive end), it was clear he was the one aspect of Kansas' offense the Cyclones had no answer for. Not Michael Jacobson. Not Cameron Lard. Not anyone else.
And it wasn't some turnaround layup or power drive to the basket that fans are going to remember after this one. It was his long-range jumper, rarely used, that put Kansas in a position to hold on for dear life in the final 23 seconds.
The clincher. Dedric Lawson with a 3 with 23 seconds left. Put #RockChalk up 5 and #Jayhawks made it stand as #KU beat #CyclONEnation 80-76 @Heartland_CS pic.twitter.com/WAtNz3ltyh

— Matthew Postins (@PostinsPostcard) January 22, 2019

During the broadcast ESPN's Holly Rowe mentioned that Lawson watched Kansas' loss to West Virginia three times on Sunday. It sounded like torture, and it probably was to some degree. But Lawson clearly played like a man with something to prove after his game in Morgantown. For that matter, his game in Ames, Iowa, earlier this month was nothing to write home about, either. You remember that, right? Iowa State won by 17 points. Lawson scored 13 points.
Lawson outscored that in the first half on Monday night (15 points). He wasn't going to be denied. He played practically every minute. And he played every possession with purpose.
The difference now than three or four games ago is that Lawson has help. The Jayhawks are starting to adjust to life without Udoka Azubuike in the paint. That adjustment includes Marcus Garrett, who scored 16 points and had 5 rebounds. Entering the game Garrett had averaged 17.5 points in his previous two games, starting with the Texas game I watched intently last week. In that game Garrett made a point of cutting and driving to the basket. That seemed a bit new to me, based on previous games. I saw the same thing again on Monday against Iowa State. One of those drives took Iowa State's Cameron Lard out of the game with his fifth foul.
Cam Lard gets his fifth foul while Marcus Garrett just keeps driving to the hoop and making shots #RockChalk #ISUvsKU @Heartland_CS pic.twitter.com/AmpX7JuwWO

— Matthew Postins (@PostinsPostcard) January 22, 2019
Garrett can give the Jayhawks a new dimension offensively. They have the offensive inside presence with Lawson. They have one of the league's best 3-point shooters in Lagerald Vick. They have a capable ball handler in Devon Dotson. But this offense could use a slasher, someone that can drive to the basket with authority and finish. Garrett has suddenly become that option. At a time when the offense is still finding its footing without Azubuike inside to attract attention, Garrett emerging as a capable scorer can be nearly as effective. The more he does this the more teams will have to funnel help over from the opposite to side to help. And that's where Garrett can start feeding outside shooters or slip a inside-the-paint pass to Lawson.
Vick added 14 and Dotson added 11, including some key free throws down the stretch to make Lawson's 3-pointer — which put Kansas up five with 23 seconds left — stand up. Because the Cyclones weren't going away quietly.
This was not a typical Kansas home game. The Jayhawks spent most of the first half behind. The Cyclones came out and lit it up from the 3-point arc, one of their clear advantages over Kansas. Freshman Talen Horton-Tucker had a huge first half, hitting a trio of 3-pointers to keep Iowa State in front (he ended up with four 3's for the game). The freshman scoring leader in the Big 12 ended up with 16 points but fouled out late. After a slow start Marial Shayok ended up with a whopping 26 points. While he hit a trio of 3-pointers in the game, he was more effective driving the ball to the basket, especially in the second half when the Cyclones started to have trouble scoring.
It was that moment when the ghosts of Allen Fieldhouse come out to mess with opponents. Nick Weiler-Babb pushed the Cyclones' lead to eight points, 47-39, with 16:22 left in the game. Kansas coach Bil Self took a time out and things started to change. Iowa State held Kansas off until a pair of Vick free throws made it 53-53 all with 10:50 left. Then Vick gave the Jayhawks the lead for what turned out to be for good with an electrifying alley-oop dunk.
#RockChalk gets the lead with alley-oop dunk by Lagerald Vick? Sure. He's got some hops. #ISUvsKU @Heartland_CS pic.twitter.com/xDAl7G9Q4x

— Matthew Postins (@PostinsPostcard) January 22, 2019

At one point Kansas was on a 14-0 run and pushed their own lead to eight points, 61-53, with 8:12 left. Iowa State head coach Steve Prohm held on to his last time out and waited for the under-8 TV timeout. Coming out of that he had his Cyclones play zone to try and slow the game down a bit, and it started to help. But, more importantly, Iowa State had to settle down. The setting had them rattled. They were playing too fast and taking too many 3-pointers. The time out, plus hustle like this settled them down.
You have to love it #cyclONEnation when your leading scorer hustles like this. #ISUvsKU @Heartland_CS pic.twitter.com/nZJn77Yf6Z

— Matthew Postins (@PostinsPostcard) January 22, 2019

Iowa State chipped away and chipped away and finally tied it with a 3-pointer by Jacobson.
Jacobson caps a 7-0 run to tie the game for #CyclONEnation at 69 all with #RockChalk #ISUvsKu @Heartland_CS pic.twitter.com/xL1EM7S1Ov

— Matthew Postins (@PostinsPostcard) January 22, 2019

But Vick hit a 3-pointer after the tie and Iowa State could never quite make up the difference.
Jacobson had 12 points and 11 rebounds for Iowa State while Weiler-Babb added 10. The oddest part of this one for Iowa State was Lindell Wigginton, who was the Heartland College Sports Sixth Man in our Starting Lineup for last week's games. He scored 3 points in this game. The Cyclones can also point to some sub-par free throw shooting (58.8 percent) in this loss.
The Cyclones keep showing us they want to be a part of this party, and even with the loss I've convinced they'll remain among the Top 4 teams in the league this season. They are in the midst of a brutal schedule. Kansas was their second ranked team in three games and their Big 12-SEC Challenge game with Ole Miss on Saturday will be their third in four games. Prohm is now 3-5 against Kansas and Self remains undefeated at home on Big Monday. Plus, his Jayhawks have not lost back-to-back Big 12 games since the 2012-13 season.
But, oh so close.
Meanwhile, I kept tabs on the Baylor-West Virginia game in Morgantown, W.Va. That was a disappointing night for the Mountaineers (9-10, 1-6) after upsetting Kansas on Saturday. Clearly that game was an aberration, and I expected that some degree. But the lack of sustained momentum — plus sub-par shooting — was troubling. James Bolden had 22 points. Brandon Knapper added 15. The starting lineup for West Virginia remains a mess.
Baylor ended up winning, 85-73, and frankly the game wasn't quite that close. The Bears (12-6, 4-2) dominated midway through the first half on and head coach Scott Drew is doing one tremendous job with these Bears. They've now won three straight and four of their last five. Drew has figured out how to live without forward Tristan Clark by relying more on his guards. Makai Mason had 29 points, Mario Kegler added 18 and Devonte Bandoo had 13 off the bench. Kegler and Bandoo are interesting developments since King McClure and Jared Butler carried the load with Mason last week. Teams are making four-guard alignments work in this league (Kansas and Iowa State among them). Technically, ESPN's roster lists all five starters for Baylor on Monday night as guards, though Mark Vital is one of the team's best rebounders at 6-foot-5. Even with no legit post in the starting lineup, Baylor outrebounded West Virginia by 10.
Baylor was a First-Four out selection in CBSSports.com's Bracketology. If Baylor can squeeze 20 wins out of this season it will be hard to keep them out of the NCAA Tournament.
Just one game tomorrow, but it's a big one which means I need to get home early. Kansas State hosts Texas Tech in a battle of the ranked Red Raiders and the should-be ranked Wildcats at 6 p.m.