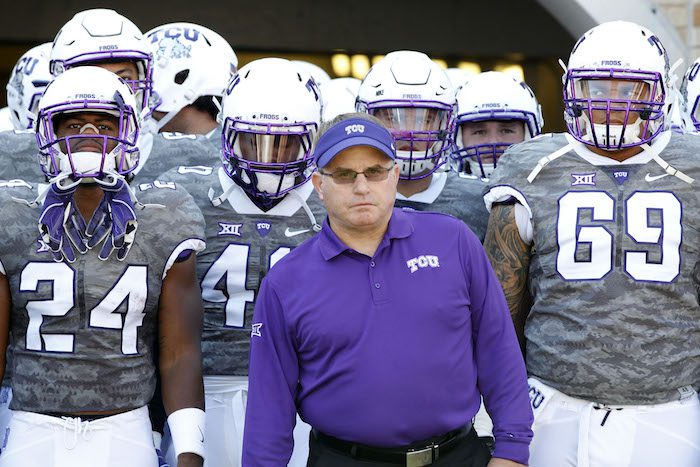 College basketball is heading down the home stretch, college baseball has started, but let's not forget (I know many of you aren't) that spring practice is already getting underway across the country. We will handle spring previews for every Big 12 football team and roll them out based on when their respective spring practices begin. Next up is the TCU Horned Frogs who will start up spring practice on Friday March 1st.
Most Exciting Returnee: WR Jalen Reagor
TCU struggled offensively last season however there was one shiny bright spot on that offense. That was none other than wide out Jalen Reagor. Even though his quarterbacks were shaky, Jalen stayed consistent last season making big plays for his team. He caught 72 passes for 1,061 yards and 9 scores in 2018 and even scored twice on the ground as well. There were literally times last year when TCU could do nothing offensively and when the ball found its way to Jalen's hands, he made good things happen. He was a second team All-Big 12 selection in 2018 and will likely be a preseason first-team selection when the preseason ballots come out. Make no mistake, he deserves the recognition.
Most Exciting Newcomer: Max Duggan
With Shawn Robinson deciding to transfer and with questions still surrounding Justin Rogers' health, the Frogs need more healthy quarterbacks. Sure, they added Kansas State transfer Alex Delton, but nobody is quite sure how he will fit in at TCU just yet. We all saw how bad the quarterback play was last year for this program and this team is a good quarterback away from competing for a Big 12 title once again. The question is, can Max Duggan be that guy?
Offensive Storyline to Watch
The Quarterback Situation
Like I mentioned above, TCU needs to find the right guy at quarterback and fast. We all wondered about Shawn Robinson last season and to simply put it, it didn't work out. Also, freshman Justin Rogers wasn't ready last season and was still recovering from an injury he suffered back in 2017. However, the Frogs were able to add four-star quarterback Max Duggan from the 2019 class and Kansas State grad transfer Alex Delton. Both guys are already on campus and will be practicing. To me, Delton has the most experience and Justin Rogers has the talent and probably the most upside. Duggan may be the best pure passer out of the trio but has no experience at the collegiate level. This quarterback race by far is the most important storyline for TCU not only for the spring, but likely for fall camp as well if there is no clear-cut starter by the end of spring. This one will be fun to watch.
Defensive Storyline to Watch
Finding Pass Rushers
Having to replace defensive end Ben Banogu will be tough, but having to replace L.J. Collier as well is arguably even tougher. Both Bangou and Collier were first team All-Big 12 selections last season and were the best pass rushing duo in the Big 12 last year. With that being said, this defense will need some new faces to step in and takeover at the defensive end spot. Without some incoming help at defensive end, TCU would have only about three true defensive ends. Right now, it looks like five guys will try to fill the void at the two end spots. Ochaun Mathis, Gary Overshown and Brandon Bowen return while Adam Plant and Parker Workman are two newcomers who could see some significant snaps in the spring. South Carolina grad transfer Shameik Blackshear will likely be in the mix when fall camp starts because he will not arrive on campus until May. Besides the defensive end spot, I think the Frogs will be fine at defensive tackle with some solid depth and the return of Ross Blacklock.
**Sign up here for our HCS weekly e-mails for a chance to win FREE Heartland College Sports and Big 12 team gear!!**