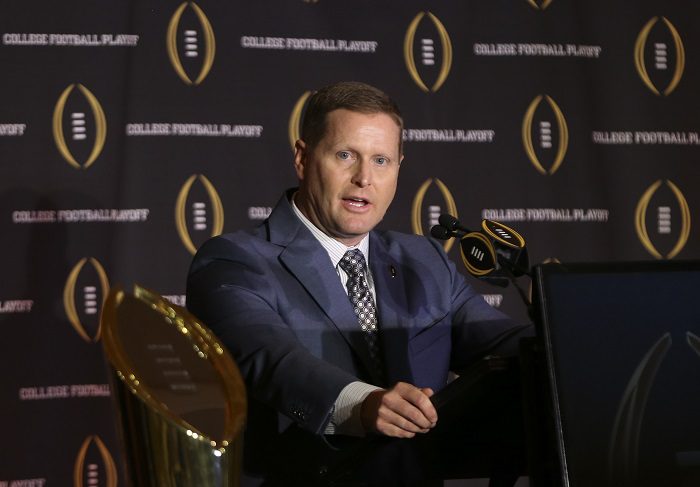 Welcome to the HCS Big 12 mailbag. This mailbag is for all you football junkies out there who root for a Big 12 school who not only have questions about your team, but other teams in the conference as well. So, join me, grab a cold brew or your favorite drink and relax as I answer all your Big 12 questions in my mailbag. For those interested, I will send out a tweet (@Derekduke25) every Monday at noon until last call (No, not 2 AM) at 8 PM CT for you to send in your questions to be answered every Tuesday right here at Heartland College Sports.
I will pick the best question for each mailbag and label it as my question of the week. The winner gets a free HCS Koozie to keep your beer cold (Unless you like it warm, but that's just plain wrong). It was busy question day which tells me that this mailbag is working harder than me at my day job. Unlike the "Big 12 blog" over at ESPN (I say that loosely because one story a month is a tragedy), we here at HCS are determined to give you the best Big 12 coverage on the planet. I want to thank each one of you who submitted a question this week and for those reading, I am glad you could join me. I am doing this on Monday evening and of course this mailbag wouldn't be nearly as fun without a cold beverage right next to me. Today's drink of choice? My personal favorite, an old fashioned. Cheers!
@Doc_Texas asks: Are Hocutt, Del Conte and Castiglione among the top five AD's in the entire country?
Duke: I would say so. I think outside of football, Kirby Hocutt has done a great job making hires. Chris Beard with basketball, Tadlock with baseball and not to mention track and field as well. Hell, even their softball team was better than normal this season. Now if Matt Wells has success, Kirby probably deserves a raise.
Del Conte at Texas has been excellent so far. The changes he has made from the "All Business" approach to the "Fan Friendly" approach has been superb. Everyone seems to love him, and he is quick to get things done. He was a top five AD at his days at TCU and remains there now that he is in Austin.
I don't even need to say anything about Joe Castiglione. He probably is number one on the entire list. Great man, great AD.
@maxdijion asks: How much wood could a woodchuck chuck if a woodchuck could chuck wood?
Duke: Ah, this takes me back to me chemistry class back in high school. I know what you are thinking, "What in the hell does this have to do with chemistry?" I was terrible at it and there were many times were I just left an answer blank because I had no idea what in the hell the answer was. So just like many of my chemistry test questions, I will have to kindly skip this one. To this day, I still have no idea how to balance a chemical equation. I always wondered if I would ever need how to do that in life and the answer is no. The teacher lied to me.
@TedFlintKansas asks: The career wins for an Iowa State head coach is 56. Matt Campbell has 19. Does he break that?
Duke: To answer your question with another question is that it all depends if Matt Campbell stays in Ames. If he stays for the next ten years, then I don't even think it is a discussion because he would break it with ease, and I am sure every Iowa State fan on the planet would love to see that happen. However, I don't see Campbell staying in Ames five years from now because he will likely be scooped up by a college football blueblood. Whether it's Michigan, Ohio State, Penn State or whoever, I think some school will back up the Brinks truck to Matt Campbell's house to get him to jump ship. Even if Matt stayed for the next four years, he would need to win at least nine games a year. Even if he did do that, I still think he is gone by then. I wish he stayed at Iowa State forever, but we all know that things change quickly in the coaching world. All I know is that wherever he goes or stays, that place will be successful.
@RPTexan asks: If you were guaranteed your Texans, Stro's or Rockets would win at least 3 & possibly 7 World Championships in the next 10 years, BUT every piece of music you'd hear for the next 10 years are FGL, Luke Bryan, or Thomas Rhett, would you take that deal?
Duke: Bring on the Bro and douchebag country! Are you kidding me? This isn't even close. Sure, my ears may bleed but that is well worth seeing a few titles from my favorite teams. I have seen my Astros win a world series (*Cough, Unlike the Rangers) so I am still thrilled about that. But seeing my Texans win a super bowl? I would do almost anything for that. The same goes for the Rockets although they won back to back titles when I was still in diapers or pull ups. Either way I was still likely crapping my pants back then.
**We now have FREE Big 12 Forums here at Heartland College Sports. Go sign up here and join our conversation! **