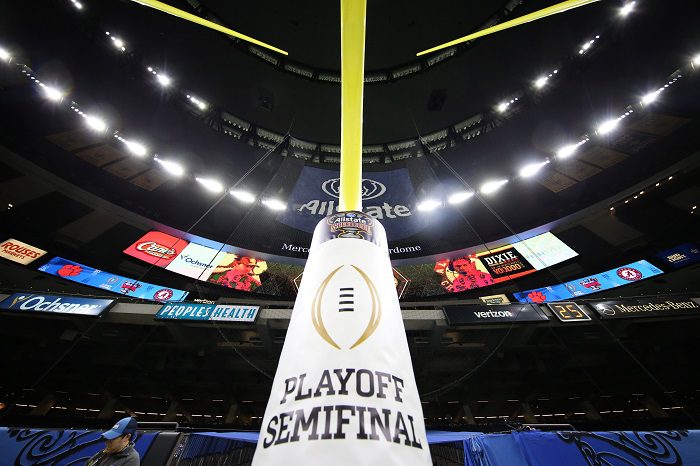 The postseason is the ultimate celebration for teams to celebrate their hard work through the course of the year. As we all know, the postseason for college football features a four-team playoff and several bowl games. Each conference has agreements with certain bowl games to send their respective teams to. Many websites use projections to show where they predict each team to go. Instead of projections, here is a version more similar to "bracketology". This is a live look at where teams would be if the season ended today.
Two New Year's Six bowl slots go to the Big 12 this week. I'm sure you'll be surprised to know they are the usual suspects. Texas takes over Oklahoma as the Big 12 Champion simply because the Sooners had a bye week and Texas won its first conference game. Had the Cowboys defeated Texas, Oklahoma State would be slated for the Sugar Bowl. Because it's so early in the season, Oklahoma State was nearly left out of a bowl game this week. Cowboys fans will get to scroll down to see where they landed.
There may be a little debate amongst the fan bases of Iowa State, TCU and Texas Tech. All three teams are 2-1 and have yet to open conference play. After sleeping on it, I actually reversed my thinking on the system. I tell you about the reversal in the bowls those teams landed in.
Only one team was left out this week. Sorry Jayhawks fans. It's not simply because Kansas is .500 or that they lost to West Virginia. Yes, that is a big part of it. I provide the full explanation along with the teams who are suffering the same consequences in your section.
Remember, it's only September. This will change. At the very least, two of the SEC teams currently in the College Football Playoff are guaranteed to suffer a loss. Notre Dame played well against a higher ranked Georgia team on the road. Despite this, the Fighting Irish dropped in the polls and dropped out of this week's New Year's Six Bowls. This sets a precedent that when an SEC team loses, they will drop out of the College Football Playoff with the assumption that a Big Ten team or a Big 12 team remains undefeated. Sorry, Cal. The Golden Bears have to surpass No.13 Oregon in the polls before we can consider them as a serious College Football Playoff contender.
Alas, the current bowl picture is below.
College Football Playoff
Peach Bowl Semifinal: No.1 Clemson (4-0, 2-0 in ACC) vs. No.4 LSU (4-0, 1-0 in SEC)
Fiesta Bowl Semifinal: No.2 Alabama (4-0, 1-0 in SEC) vs. No.3 Georgia (4-0, 1-0 in SEC)
Sugar Bowl, Big 12 Champion vs. SEC Champion
No.11 Texas (3-1, 1-0 in Big 12) vs. No.9 Florida (4-0, 2-0 in SEC)
-Texas is the current leader of the Big 12 because they have played a conference game. Oklahoma will play their first Big 12 game this Saturday and will likely take this spot back.
-Speaking of conference leaders, Florida truly is the SEC leader. They have played two conference games, while the three mentioned in the College Football Playoff have played just one.
Cotton Bowl, At-Large vs. highest ranked member of the Group of Five schools
No.6 Oklahoma (3-0, 0-0 in Big 12) vs. No.16 Boise State (4-0, 1-0 in Mountain West)
-Oklahoma is not the leader of the Big 12 and even dropped down a spot in the AP Poll. Ohio State is now ahead of the Sooners, but the Buckeyes score a Rose Bowl berth for being the Big Ten Conference Champion.
-UCF was upset during a road game at Pittsburgh this weekend. Boise State is the new leader of the Group of Five schools.
Alamo Bowl, Big 12 No.2 vs. Pac-12 No.2
West Virginia (3-1, 1-0 in Big 12) vs. No.15 California (4-0, 1-0 in Pac-12)
-West Virginia knocks Kansas State down because the Mountaineers defeated Kansas. Yes, the Jayhawks would be here had they pulled off the victory.
-USC scored the Pac-12's Rose Bowl berth having two victories in two conference games. It's notable that both victories came in The Coliseum. The Trojans lost at BYU, whom was slaughtered by Washington this past week. USC's Rose Bowl berth will likely fade away. Cal is still a likely Alamo Bowl contender though having to face the tougher Pac-12 North. Oregon's loss to Auburn has them at the No.3 spot, sending the Ducks to the Holiday Bowl.
Camping World Bowl, Big 12 No. 3 vs. ACC first tier selection
No.24 Kansas State (3-0, 0-0 in Big 12) vs. Wake Forest (4-0, 0-0 in ACC)
-Kansas State is ranked higher than Baylor. This sends the Wildcats to Florida, where they will likely dominate an ACC squad.
-Wake Forest is 4-0, but they are also in Clemson's division. Also, their victory over North Carolina did not count as an ACC game. However, if they beat Boston College this week, it will only strengthen the argument as to why Wake Forest should be the team to face a Big 12 foe.
Texas Bowl, Big 12 No.4 vs. SEC first tier selection
Baylor (3-0, 0-0 in Big 12) vs. Ole Miss (2-2, 1-0 in SEC)
-The undefeated record helps Baylor score the No.4 slot. The Bears open conference play against Iowa State this week.
-Ole Miss has lost to Memphis and at home against Cal. Believe it or not, they're considered a "first tier" team because they defeated Arkansas in SEC play. Also, the SEC used up five teams in the New Year's Six Bowls. This includes three teams in the College Football Playoff. Remember, I based those on the AP Poll. This matchup also provides the SEC with the spin of "Well, the Big 12 beat our worst bowl eligible team, so they aren't really better than us."
Liberty Bowl, Big 12 No.5 vs. SEC first tier selection
TCU (2-1, 0-0 in Big 12) vs. Kentucky (2-2, 0-2 in SEC)
-There is a difference of my through process between being up at midnight and revising during the day. Originally, I had Iowa State here because they lost to a ranked team. TCU and Texas Tech lost to unranked teams. That's more negative thinking. I reward TCU here for the road victory against Purdue. This pushes Iowa State down two bowl slots because all three of their games have come at home.
-The SEC sends Kentucky here because it's easier for Wildcats fans to travel here. It also makes sense to have Kentucky play a Big 12 school because SEC fans can respond to a potential loss by claiming basketball school status.
Cheez-It Bowl, Big 12 No.6 vs. Pac-12 No.7
Texas Tech (2-1, 0-0 in Big 12) vs. Arizona State (3-1, 0-1 in Pac-12)
-Texas Tech's road loss to Arizona gains more credit than Iowa State's home loss to Iowa. Both teams have won home contests against FCS schools and Group of Five schools.
-Arizona State drops down to the seventh slot after a loss to Colorado.
First Responders Bowl, Big 12 No.7 vs. Conference USA selection
Iowa State (2-1, 0-0 in Big 12) vs Louisiana Tech (3-1, 1-0 in Conference USA)
-Iowa State is higher than Oklahoma State simply because Oklahoma State lost a conference game. The Cyclones can shoot up the bowl slots with a victory over Baylor, or will likely be on the outside looking in with a .500 record and a conference loss.
-Conference USA places their champion against a Power Five Conference school. Louisiana Tech defeated Florida International in a Friday night home game.
Frisco Bowl: The American selection vs. At-Large
Tulane (3-1, 1-0 in The American) vs. Oklahoma State (3-1, 0-1 in Big 12)
-Oklahoma State receives this bid over Air Force, Army, San Jose State and Washington State because they are a Power Five school within close proximity to Frisco, Texas. The thought process is that Cowboys fans would have the best money-making turnout. Air Force and Army would probably receive a lot of donated tickets, which does not bring in revenue. Washington State is left out because of proximity, despite the bowl game realizing Texas is filled with Mike Leach fans. San Jose State would never score this bowl bid over Oklahoma State.
Left out: Kansas (2-2, 0-1 in Big 12)
-The Jayhawks are 2-2 with a conference loss. The Conference has filled its bowl commitments. While many .500 teams have been selected to bowl games in the past, and even many 5-7 teams, there are four teams with winning records who are left out. This includes Power Five school Washington State. The Jayhawks are joined at .500 teams left out with : Arkansas State, Buffalo, BYU, Charlotte, East Carolina, Illinois, Liberty, Louisville, Miami (FL), and Tulsa.
Powered by RedCircle
**We now have FREE Big 12 Forums here at Heartland College Sports. Go sign up here and join our conversation! **