Baylor Bears
Baylor Spoils Oklahoma State Homecoming, Stays Undefeated with 45-27 Win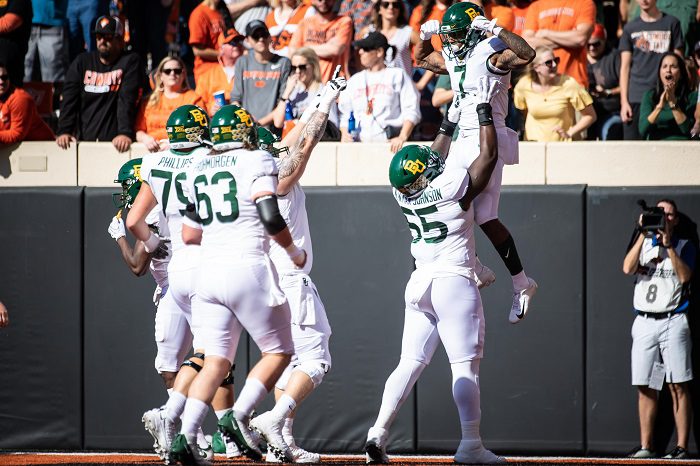 Homecoming in Stillwater. An Oklahoma State team that had won 11 of its last 12 games at home against Baylor. But times are changing in the Big 12 as each and every week the Baylor Bears are proving they're a team to be reckon with in this conference.
That theme continued on Saturday in a game with a final score that made it seem like much more of a blowout than it was. This game turned early in the fourth quarter when with Oklahoma State trailing Baylor 31-27, Spencer Sanders had the ball stripped and Terrel Bernard scooped it up for a 38-27 lead with eight minutes left. Oklahoma State's next drive resulted in a turnover on downs, which effectively ended the game.
But that's not how the first 3+ quarters of this game played out.
Baylor got on the board on its first drive thanks to a John Lovett 25-yard touchdown run. Oklahoma State responded with a 13-play, 78-yard drive ending with Sanders finding Jordan McCray for a five-yard touchdown. But the Pokes missed the extra point and trailed 7-6.
The game would remain scoreless until the 4:15 mark of the second quarter when Chuba Hubbard capped off a seven-play drive with a two-yard touchdown run to go up 13-7. Baylor knocked through a field goal and then came a huge swing in momentum before halftime. Oklahoma State was inside the Baylor 10-yard line with under 30 seconds left in the half when Spencer Sanders was picked off by Kalon Barnes. The Pokes would only go into halftime leading 13-10.
On their first drive of the second half, Oklahoma State scored a touchdown on Hubbard's three-yard score for its largest lead of the game, 20-10. However, the Bears did not let down, as they then turned it on offensively with two-straight touchdown drives, one set up by a 78-yard pitch a catch from Charlie Brewer to Tyquan Thornton and then it was Josh Fleeks finding the end zone on a 65-yard score.
Baylor held a 24-20 lead at the 2:36 mark of the third quarter. The fireworks continued as both teams traded touchdowns, giving Baylor a 31-27 lead before the fumble return for a touchdown took place for the Bears.
The game was emotional, with plenty of swings, and Charlie Brewer said to FOX Sports after the win, "We're a more mature team now [than two years ago when they lost in Stillwater 59-16]."
Brewer finished an efficient 13 of 17 for 312 yards and one rushing and one passing touchdown. JaMycal Hasty was a beast on the ground with 16 carries for 146 yards and two touchdowns.
Matt Rhule improved to 39-0 when leading to start the 4th quarter and the Bears improved to 7-0 on the season and could be headed for a Top 15 ranking come Sunday.
The Bears are off until Thursday, October 31st when they take on West Virginia, while Oklahoma State travels to Iowa State next week.
**We now have FREE Big 12 Forums here at Heartland College Sports. Go sign up here and join our conversation! **