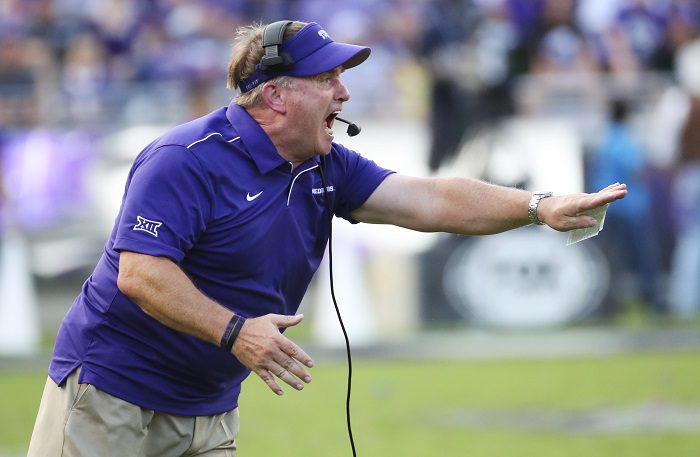 By no means was the TCU/Texas Tech game the prime time game in the Big 12 in Week 12. With other big conference games on the slate for Saturday, it was easy to forget about this one. However, this game was very important for one BIG reason. BOWL ELIGIBILTY. Both teams entered Saturday at 4-5 and had just three chances left to get to six wins. While the winner would just need to split their final two games to reach bowl, the loser would have to win out just to get to six wins. Both teams have young players who could use the extra practice time, so there was plenty on the line in this match up.
The Horned Frogs came to play in Lubbock and if there was any question about their offense in the first half, it was answered on Saturday. TCU managed to score on its first four drives of the game. On their first drive, TCU quarterback Max Duggan led his team to a beautiful ten play drive that ended with a 20-yard touchdown run by him. Then, following a Jett Duffey interception, TCU was able to capitalize with a 36-yard field goal by Jonathan Song and just like that, the Frogs were up 10-0 before you could blink. 
On TCU's third drive, it was yet another long one that paid off. This time, it was a nine- play drive that resulted in a 4-yard touchdown pass to Artayvious Lynn. After being down 17-0, Texas Tech finally appeared to have enough but after their own lengthy twelve play drive, the Red Raiders were only able to put three points on the scoreboard after a Trey Wolff 36-yard field goal. 
TCU's 14-point lead wouldn't last long because in just three plays, the Horned Frogs would extend their lead to 24-3 after Max Duggan found superstar wide out Jalen Reagor for a 55-yard touchdown pass early in the second quarter. 
Following that TCU touchdown, it finally seemed that the Red Raiders woke up. On the kickoff, Ta'Zhawn Henry returned the kick 65 yards all the way down to the TCU 37-yard line to put the Red Raiders within striking distance. Just a few plays later, Jett Duffey hit Dalton Rigdon for a 26-yard touchdown pass to pull within two scores with 10:15 left in the first half. 
Both sides would punt a few times before Texas Tech made a big splash play when Jett Duffey connected with R.J. Turner for a 70-yard touchdown. After a missed extra point, Texas Tech trailed 24-16 with just a shade under two minutes left in the first half. However, the half wouldn't end easily for Tech after a crazy 14-play drive ended with a 28-yard field goal by TCU kicker Jonathan Song as TCU went into the break leading 27-16. Also, an important thing to remember is that Texas Tech linebacker Jordyn Brooks left the game early with a possible collar bone injury and running back Ta'Zhawn Henry was shaken up as well. Oh, and wide receiver T.J. Vasher was still out serving a suspension.
The third quarter was dominated by Texas Tech as they would go on to score two touchdowns while TCU wasn't able to do much in the third quarter. Once again, Jett Duffey found R.J. Turner for a 32-yard strike and not too long after, Duffey hit Erik Ezukanma for a 33-yard score. But after two failed two-point tries, Texas Tech led TCU 28-27. 
Just as TCU's late third-quarter drive was winding down, the Horned Frogs were able to knock in a kick to put them back on top 30-28 early in the final quarter. However, that lead was short lived as Tech kicker Trey Wolff gave his team the lead back 31-30 after his 24-yard kick. But just like a game of tennis, this became a back-and-forth affair because immediately following Tech's field goal to go up, TCU responded with yet another field goal from Jonathan Song and with 5:38 left to play, the Frogs were up 33-31. Tech would get one final shot, but it ended quickly as McLane Mannix fumbled the football and gave TCU the opportunity to run the clock down as they did to go on to win 33-31 in Lubbock. 
This was almost a must-win game for TCU and they took care of business on the road. In fact, the Frogs held the football for a whopping 43 minutes and 26 seconds in this game and racked up 549 yards of offense on the day. Everything simply seemed to be clicking for them on offense which is something we couldn't say too often this season. Now sitting at 5-5, TCU just needs one more win against either Oklahoma or West Virginia to reach a bowl game. 
Meanwhile for Texas Tech, this was a heart breaker in a sense, as they fall to 4-6 on the season and must beat Kansas State and Texas just to get to a bowl game.
**We now have FREE Big 12 Forums here at Heartland College Sports. Go sign up here and join our conversation! **