Big 12 News
Mike Gundy: Texas A&M is 'the Best 7-5 Team in the History of the NCAA'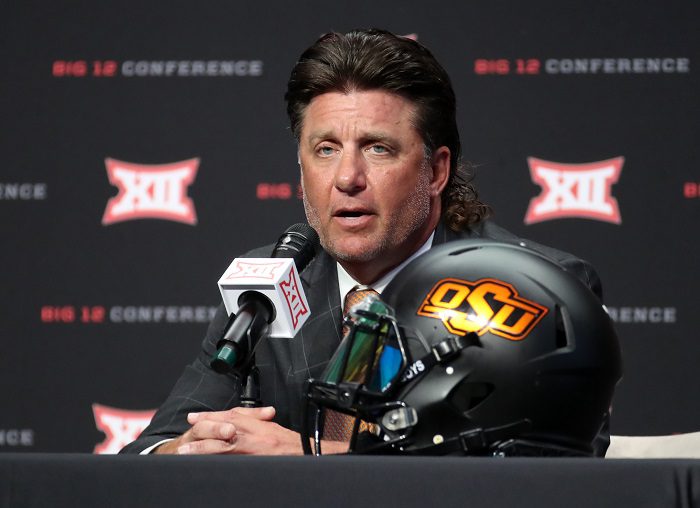 Mike Gundy is a tough guy to read. It's hard to tell sarcasm vs. serious in Gundy world. So take everything with a grain of salt, especially when reading it on paper.
That being said, as Mike Gundy prepares his Oklahoma State Cowboys for the Texas A&M Aggies in the Texas Bowl, Gundy certainly had high praise for his opponent.
"I think they are the best 7-5 team in the history of the NCAA in my opinion," said Gundy, according to Pistols Firing. "They have lost to No. 1; they have lost to No. 1; they have lost to No. 1; they lost to No. 4; and they lost to No. 12. That's their five losses."
Gundy added, "They are definitely a top-20 team. I haven't started watching tape on them. I watched them on TV a couple times. I know that they are very athletic. I know that their quarterback, he's a third-rated quarterback in the SEC, only behind the Heisman Trophy winner and behind Tua. So it will be a great challenge for us. We'll have to get to work as soon as possible. We'll have to have great preparation and we'll have to play a very good game against a very, very good team."
But as Texas A&M gets ready for this match up, their head coach Jimbo Fisher isn't expecting a walk in the park, saying, "They have a heck of a football team … He's built a great reputation there and a great winning tradition. He's won a lot of football games and had a lot of great years and I think one of the top coaches in the country. It's going to be a heck of a challenge to play them in the game."
So there you have it, some love between coaches. And while Gundy might be missing his top three offensive weapons in Spencer Sanders, Tylan Wallace and Chuba Hubbard, history is on his side as Gundy has a 9-4 record in bowl games.
**We now have FREE Big 12 Forums here at Heartland College Sports. Go sign up here and join our conversation! **