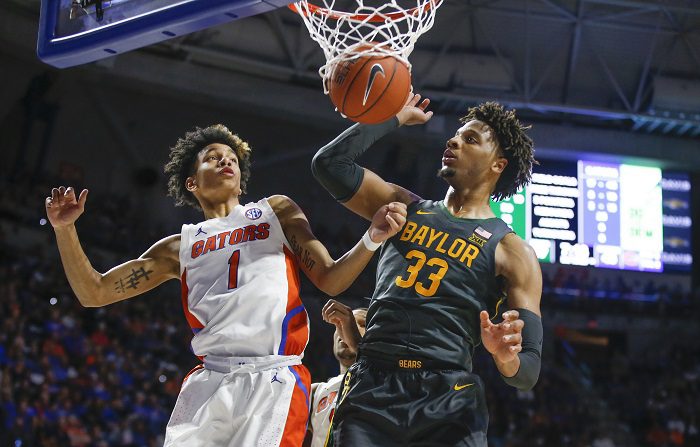 With the 2019-20 Big 12 Men's Basketball season now in Big 12 play, here are the HeartlandCollegeSports.com power rankings as of Jan. 26.
1. Baylor (Last rankings: 1)
It's hard to quibble with perfection this past week. Oklahoma certainly pushed the Bears to the limit in Waco the night the Bears became No. 1 in the country, but Baylor hung on. The win on the road in Florida proved once again this team is built for the long haul.
Next: The Bears are at Iowa State on Wednesday and then host TCU on Saturday.
2. Kansas (Last rankings: 2)
A 2-0 week for the Jayhawks keeps them firmly at No. 2, despite the brawl that broke out after beating Kansas State. Beating Tennessee at Allen Fieldhouse was a nice touch. It helps keep them in the running for a No. 1 seed in the NCAA Tournament.
Next: Kansas travels to Oklahoma State on Monday and then hosts Texas Tech on Saturday.
3. West Virginia (Last rankings: 3)
Not a hard decision to move the Mountaineers up a spot. They destroyed Texas and blew out Missouri. The bench is coming into its own. Bob Huggins can go 10 players deep, and at times 11, and lose little in the way of quality play.
Next: The Mountaineers are at Texas Tech on Wednesday and then host Kansas State on Saturday.
4. Texas Tech (Last rankings: 3)
Keeping Tech at No. 4 was a tough decision given they lost both games and Oklahoma split for the week. There is no head-to-head tiebreaker either, since the two teams haven't met yet. The Red Raiders played a hard-nosed game against Kentucky at home and could have won. They should have beaten TCU. I still think Tech, for the moment, is a better team. But it's by a razor's edge over OU at this point. And the Red Raiders have a monumental week ahead.
Next: Texas Tech hosts West Virginia on Wednesday and travels to Kansas on Saturday.
5. Oklahoma (Last rankings: 5)
The Sooners missed another opportunity to take down one of the conference's ranked teams in Baylor on Monday, and then they outlasted Mississippi State at home. That's one of the reasons I'm keeping OU here for at least one more week. The Sooners are missing chances to take down the Big 12's elite, and since I still consider Texas Tech to be among them (for now), I can't move the Sooners up. And, I believe the Sooners are better than the remaining teams on this list.
Next: The Sooners are at Kansas State on Wednesday and host Oklahoma State on Saturday.
6. TCU (Last rankings: 7)
TCU's win over Texas Tech was a solid one that enhances their NCAA hopes. Kevin Samuel had two fine games in the pivot for the Horned Frogs. Desmond Bane keeps doing his thing. But this team is growing defensively, and that's an asset that should serve the Horned Frogs well in the games to come.
Next: TCU hosts Texas on Wednesday and travels to Baylor on Saturday.
7. Iowa State (Last rankings: 9)
The win over Oklahoma State at home gave the Cyclones some momentum going into their SEC game with Auburn on Saturday, and the Cyclones were within striking distance until the end. The fact that the Cyclones played the Tigers so well on the road bodes well. The consistency of Rasir Bolton, and the improved play of forward Solomon Young off the bench, does, too.
Next: Iowa State hosts Baylor on Wednesday and travels to Texas on Saturday.
8. Oklahoma State (Last rankings: 10)
The Cowboys ended their six-game losing streak by beating Texas A&M on Saturday, so that's helpful. The Cowboys, overall, are playing better. The moves head coach Mike Boynton has made are working. It's a matter of how quickly those moves will pay off in Big 12 wins, and the Cowboys don't have any yet.
Next: The Cowboys host Kansas on Monday and travel to Oklahoma on Saturday.
9. Texas (Last rankings: 6)
Texas drops three spots after its horrible loss to West Virginia. The Longhorns may not have dropped so far this week had they not lost to LSU at home, too. An 0-2 week — with one of those losses being the worst in the Big 12 to this point this season — means Texas is near the bottom of these rankings for at least this week.
Next: Texas is at TCU on Wednesday and hosts Iowa State on Saturday.
10. Kansas State (Last rankings: 8)
Head coach Bruce Weber is right in that his Wildcats are playing better. But with the worst overall record in the Big 12, a blowout loss to Kansas and a close loss on the road to Alabama, it's hard to see when the Wildcats may emerge from this malaise with back-to-back wins. By the way, at this point, there isn't much separating KSU and Texas in my mind.
Next: The Wildcats host Oklahoma on Wednesday and travel to West Virginia on Saturday.
Note: Our next full update will come on Feb. 3. Plus, on Friday I'll post updated Power Rankings on my Twitter feed @PostinsPostcard.
**We now have FREE Big 12 Forums here at Heartland College Sports. Go sign up here and join our conversation! **