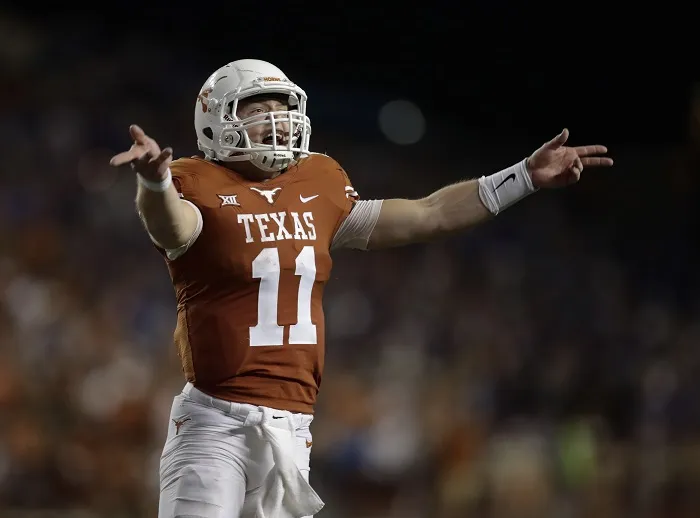 The Longhorn Long Ago
In 1998, running back Ricky Williams had a hold on College Football. Playing for the Texas Longhorns, the San Diego native still holds or shares 20 NCAA records despite having left the gridiron two decades ago. In the first two games of his senior season, Williams rushed for nine touchdowns. That year, in a rival game against Texas A&M, he broke the NCAA's rushing record, earning himself the moniker the 'Texas Tornado'.
Unsurprisingly, Ricky Williams went on to a promising NFL career, drafted as fifth overall pick in the 1999 draft by the New Orleans Saints, marking the first time an NFL team made only one draft pick. Unfortunately, Williams' divorce from the NFL came after he tested positive for enhancers—multiple times.
Today, Williams is a football analyst for the Longhorn Network for Texas GameDay and Texas GameDay Final. However, the Texas Longhorns haven't recovered a Heisman Trophy since Williams' time on the team.
The record-breaking running back has come to the defense of the Longhorn's greatest hope for another Heisman: quarterback Sam Ehlinger.
Ehlinger: A Hopeful
Since 1998, University of Texas at Austin hasn't produced a Longhorn athlete worthy of the Heisman Trophy. After a 22-year drought, many are looking at quarterback Sam Ehlinger to tip the Heisman Trophy winner betting odds in favor of the Longhorns—and it isn't a longshot.
In 2018, he broke the Longhorn record for most rushing touchdowns scored by a quarterback. The same year, he broke the record for the most consecutive pass attempts without an interception throughout the entire Big 12 conference.
Ricky Williams came to Ehlinger's defense in summer of 2019 when Terry Bradshaw took a shot at the Junior-year Heisman hopeful, saying he just "ain't that good". Like many, Williams pointed to Ehlinger's exceptional NCAA career.
Aside from the above-mentioned accolades that have made the quarterback an indispensable asset to the Longhorn team, Ehlinger became only the sixth Power Five quarterback in the last twenty years to throw for at least 25 touchdowns and run for at least 15 touchdowns.
Ehlinger has been named a Big 12 offensive player of the week by multiple publications in multiple issues, wading through the talented and highly competitive Big 12 NCAA Conference. Though he is named as the number six choice for the upcoming Heisman Trophy award, many still support the Longhorn despite the presence of other local hopefuls like Oklahoma State running back Chuba Hubbard and University of Oklahoma quarterback Spencer Rattler.