Big 12 News
The Red River Rivalry Location is Up in the Air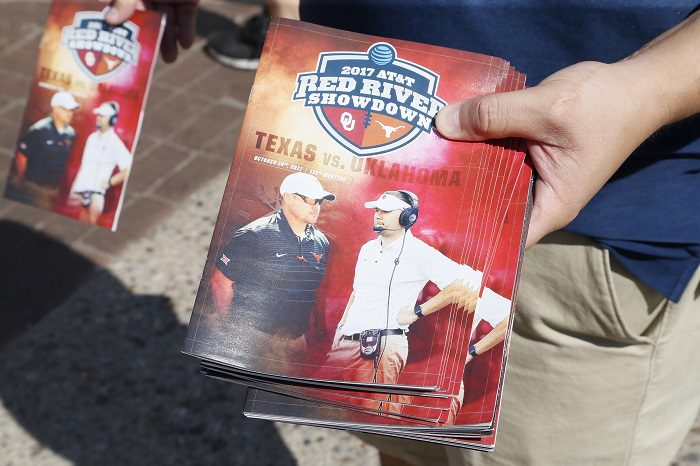 What is the first thing that comes to mind when you think about the Texas State Fair? Is it the 55-foot tall Big Tex? Maybe the smell of a delicious Fletcher's corny dog? Or perhaps my personal favorites, the fried food and the cold beer. Whatever it may be, there is one tradition at the state fair the rules supreme. That of course of the Red River Showdown played inside the Cotton Bowl on fair grounds. 
No matter what side of the Red River you are on, there is no denying that the iconic Cotton Bowl is a tradition like no other. On one Saturday in early October, two blue bloods of college football meet on that field. One half of the stadium is burnt orange while the other is in crimson and besides bragging rights for an entire year, you earn one of the coolest trophies in all of college football which is the golden hat. This has been a tradition every year since 1930 when the Cotton Bowl first opened.
While all these traditions remain sacred, for the first time in what feels like forever, this game could be in jeopardy. The state fair's website put out a statement on Wednesday saying "The State Fair of Texas will make an announcement by mid to late July concerning the status of the 2020 Fair. With health and safety as the top priority, the management team and the board of directors have been discussing all potential scenarios since the beginning of the COVID-19 pandemic. The board of directors, in conjunction with government officials, is expected to decide on whether or not the 2020 State Fair of Texas will occur by mid to late July."
As of right now, we still have no idea what is going to happen with college football. Could we see stadiums full or half full? Are we even going to have a season at all with all these new spiking COVID-19 numbers? We still need answers and unfortunately, time will be the tell all for those answers. Whatever the case may be, it would be hard to imagine this game not being played at the Cotton Bowl.
But the question that makes my mind wonder is, if not the Cotton Bowl, then where? Do they take the game to AT&T Stadium (aka Jerry World)? Or is it possible that we could have a game in Norman or Austin for the first time in the last hundred years?
I have no clue, but if there is one thing I do know it is this: No matter if there is crimson or burnt orange at the Red River Showdown, please do not move this game for the Cotton Bowl. As a fan of college football, I would not want this game played anywhere else because some traditions you simply do not break. 
**Want to win a $25 gift card?  Go sign up here and join our conversation! The best poster each week wins a gift card to your favorite establishment!**