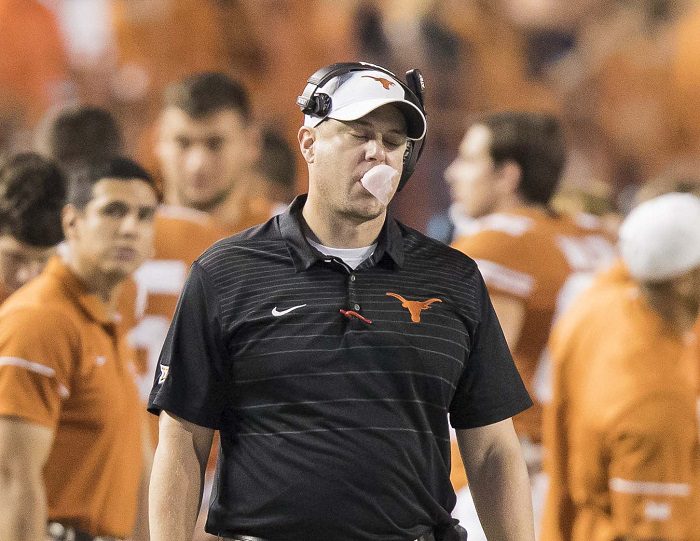 The Big Ten and the Pac-12 packed it in on Tuesday. The Big 12 reaffirmed its desire to play in 2020, according to multiple reports, led by SoonerScoop.com. The Big 12 is even working on a revised schedule.
Here's my suggestion to the Big 12.
Get innovative. Get a bubble. Get one NOW.
You're probably sitting there and saying, "You CAN'T have a bubble in college football! It's impossible."
That's not the sort of thinking we need right now. We need innovation. We need outside-the-box thinking. The system of college football has been disrupted by the coronavirus and, up until this point, college football has relied on traditional thinking, and the list of conferences deferring football to 2021 is LONG. We love college football for its tradition. But it's that tradition, that deep-seated approach to what has worked in the past, that is failing us.
The best kind of innovation comes when the systems that we've relied upon are disrupted. To solve those problems you need to think differently, to be flexible, to not rely on the philosophy of "that's the way we've ALWAYS done it."
Innovation is not a revised schedule that pushed the start of the season back a few weeks. That's just deferring the potential pain. That's just closing your eyes, touching a screw and hoping it works out. The past six months has shown us this virus is not just going to "work out" or go away.
The Big 12 needs a plan that shows it can lead, go in its own direction and be an innovator, not a follower.
Right now, the best innovation is a bubble. Would it be difficult? Yes. Is it impossible? If you say yes, then you're just giving up, and that's what the Big Ten and Pac-12 just did.
The NBA, the NHL and the WNBA have all adopted a bubble approach. None of them are dealing with the virus. No cases since their seasons began. The MLB went without a bubble. The Miami Marlins hit the town in Atlanta and their positive tests jacked up the first week of the season. Then, some St. Louis Cardinals went to the casino, ended up with multiple positive tests and haven't played a game since July 29.
The bubble works. The bubble, or some other innovative approach, is what I believe the Big 12 needs to do in order to do everything possible to guarantee a 2020 season and ensure players are healthy.
So, how do we do it? We'll let's get a little innovative and non-traditional, shall we?
First, the Big 12 should put a full stop to any football before Oct. 1. The league needs time to play and prepare for a bubble approach. The NBA and NHL have provided the templates. Follow them.
Second, pick the location, or, locations. You don't have to have just one bubble. You could have two — one in Dallas-Fort Worth and one in Kansas City. You could have both bubbles in DFW — one in Dallas and one in Fort Worth. You need infrastructure and all three cities have it — stadiums, hotels, practice facilities and more.
Third, adjust the configuration of the conference for one year. If you take a bubble approach in two locations, then divide the conference into two pods:
Pod 1: Baylor, Oklahoma, Texas, TCU and Texas Tech.
Pod 2: Iowa State, Kansas, Kansas State, Oklahoma State and West Virginia.
Yes, Oklahoma and Oklahoma State fans, I'm breaking up Bedlam for one year. Remember — we're not being traditional right now. We're trying to be innovative. We're trying to have college football.
Once you have that settled, bring the teams to their respective bubbles three weeks before the season starts. You need the ramp-up time — testing, quarantining positive cases, getting settled for classes, starting a training schedule, etc… Once the three-week period is over, assuming there are few to no COVID cases, start the season the first weekend of October.
Each pod would play a double round-robin schedule for a total of eight games, two games per week. Each team would get two bye weeks if my math is right. The champion of each pod gets out and plays in the Big 12 Championship game in December.
It doesn't matter if they play games in big stadiums or practice fields, since the games will be on TV and there won't be fans. So don't get hung up on having 50,000 people at each game. That won't happen in the bubble. But at least games will be on TV and that's really what matters when it comes to the financial solvency of these programs. The TV money the Big Ten and Pac-12 may lose off by delaying their college football seasons may never be replaced and that could impact the financial support for their other programs.
Yes, there are a myriad of details to work out with a bubble approach. But, the NBA and NHL worked them out. And they had a players' union to deal with. College football doesn't. They just have kids that want to play football. Tell them all they have to do is go into a bubble for a few months and they'll make the sacrifice. I've been around college football players for 25 years. They'll do it.
If a bubble isn't your cup of tea, that's fine. Comment below and let us know what your plan is.
But the point here is that the "way that college football has always done it" won't work this year. The remaining conferences that want to play need to innovative and flexible.
The Big 12 has the chance to lead the way. Let's see if they can deliver.
**Want to win a $25 gift card?  Go sign up here and join our conversation! The best poster each week wins a gift card to your favorite establishment!**