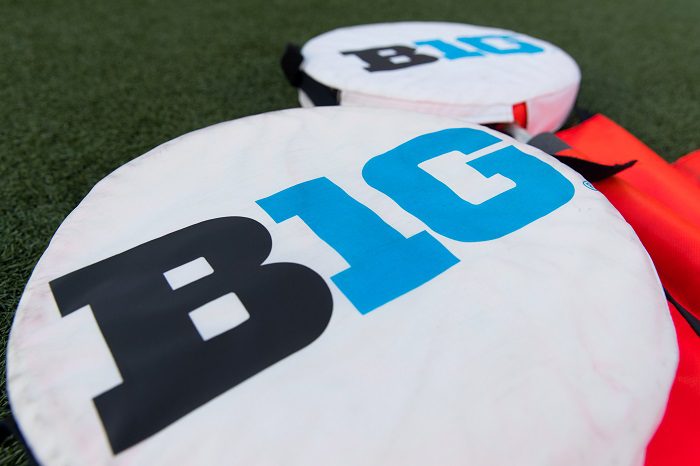 The Big Ten is apparently having buyer's remorse over cancelling its football season.
Oops.
But now it may try to play a fall schedule and use its media buddies to influence the rest of the Power 5 Conferences and College Football Playoff.
On Friday morning it was reported that the Big Ten was now considering starting a football season on Thanksgiving Weekend.
As CBS Sports reported, "As pressure continues to mount on the Big Ten's decision-makers for pulling the plug on fall football, another option has been brought to the table by the league's coaches. The Big Ten is considering a schedule that would start Thanksgiving week as one of numerous options for when to begin playing college football again, a league source confirmed to CBS Sports' Dennis Dodd."
This news comes days after the Big Ten also reportedly was planning to play eight football games starting in January in domes. Huh? Based on what we know today about COVID-19, who would opt for playing indoors at the peak of flu season vs. outdoors in September, October and November? There is little to no logic to their plan being a safer environment for student-athletes.
But hey, they're the mighty, elite Big Ten. Don't question them, right?
Also, how would either start date, November of January, look for the Big Ten to be playing meaningless regular season games as the Big 12, SEC and ACC begin preparing for a bowl season and College Football Playoff? It makes no sense.
That's why I've always believed spring football was never going to happen anyway for the Big Ten. The top players would begin preparing for the NFL Draft and the rest would say, "Forget it, let's get ready for the 2021 season". There would be no enthusiasm.
But now there is a push from some in the same group that also tried to carry the Big Ten and Pac-12's water into cancelling all of college football, to agree on a new start date for the sport for the Power 5 in October.
It's not sensible, it's ridiculous and stupid.
Either you believe college football can be played this fall or you don't. That's it. There's no justification for college football being played on October 31st, but not September 12th. The only justification would be the Big Ten royally screwing up its decision making and wanting a do-over, which they feel should impact the rest of the sport.
Sorry guys. Not happening. The Big 12 Conference should not entertain this for a second. And neither should the SEC or the ACC.
You guys know when the Power 5 conferences are set to begin playing. There is still time for you to play a conference slate in that time frame if you'd like. The College Football Playoff has announced its dates for beginning rankings, with Selection Sunday set for December 20th.
It would be a quick turnaround, but you have time, Big Ten. If you want to get back to playing college football and following the science, which overwhelming shows it is a safe thing to do as it relates to COVID-19, then come on down.
Here is a great graphic from the state of Kansas showing that sports accounted for .17% of COVID-19 cases with 0 hospitalizations and 0 deaths. Maybe the Big Ten can get its hands on graphs like this in their respective states, which I'm sure would show a similar outcome.
Alas, the Big Ten has handled its college football season so horribly thus far, I don't expect anything to change. Let's just hope they keep to themselves this time and don't try to bring the rest of the sport down with them.
**Want to win a $25 gift card?  Go sign up here and join our conversation! The best poster each week wins a gift card to your favorite establishment!**