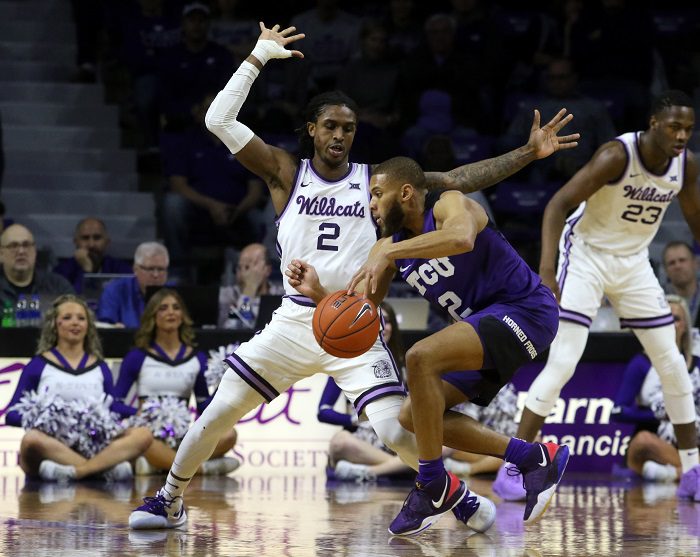 Leading up to the 2020-21 Big 12 basketball season, Heartland College Sports will analyze each of the Big 12 men's basketball schedules. Today it's the TCU Horned Frogs.
Season opener: TCU opens on Nov. 25 with a home game against Houston Baptist.
Tournaments: TCU found a tournament at the Hall of Fame Classic in Kansas City, Missouri. The Horned Frogs face Tulsa on Nov. 28 and then either Northwestern or South Carolina the following day.
The Big 12/Big East Game: TCU will host Providence on Dec. 9.
The Big 12/SEC Game: TCU will travel to Missouri on Jan. 30.
The Big Non-Con: For the second straight year the Horned Frogs will play a game at Dickies Arena. This time it will be Texas A&M, so at least the locals will turn out (assuming crowds are allowed).
Mid-Major Danger: Beware of North Dakota State, which tied for the Summit League title last year with a 13-3 league mark and 25 wins overall. They're not just good at football.
Big 12 Opener: The Horned Frogs host Oklahoma on Dec. 6. It's the first game of the Big 12 slate.
The 'Big' Big 12 stretch: Before the Big 12-SEC Challenge, the Horned Frogs have a stretch of seven games that will test them to the core — Kansas, Baylor, at Oklahoma, at West Virginia, Texas Tech, Texas and at Kansas. Finishing that stretch 4-3 would be a huge win for this program.
Note: Due to COVID-19 and the late-evolving nature of national schedules, the schedule is subject to change and could see games removed or added with little notice.
2019-20 TCU Schedule
(*-Big 12 game)
Nov. 25 Houston Baptist
Nov. 28 vs. Tulsa (Hall of Fame Classic, Kansas City, Missouri)
Nov. 29 vs. Northwestern/South Carolina (Hall of Fame Classic, Kansas City, Missouri)
Dec. 3 Northwestern State
Dec. 6 Oklahoma*
Dec. 9 Providence (Big 12-Big East Battle)
Dec. 12 vs. Texas A&M (at Dickies Arena, Fort Worth, Texas)
Dec. 16 at Oklahoma State*
Dec. 22 North Dakota State
Dec. 30 Texas Southern
Jan. 2 at Kansas State*
Jan. 5 Kansas*
Jan. 9 Baylor*
Jan. 12 at Oklahoma*
Jan. 16 at West Virginia*
Jan. 20 Texas Tech*
Jan. 23 Texas*
Jan. 26 at Kansas*
Jan. 30 at Missouri (Big 12-SEC Challenge)
Feb. 3 Oklahoma State*
Feb. 6 at Baylor*
Feb. 9 Iowa State*
Feb. 13 at Texas*
Feb. 17 at Texas Tech*
Feb. 20 Kansas State*
Feb. 22 West Virginia*
Feb. 27 at Iowa State*
**Want to win a $20 gift card?  Go sign up here and join our conversation! The best poster each week wins a gift card to your favorite establishment!**