Big 12 News
Allegations Surface of OU Fans Breaking Rib of OSU Student Equipment Manager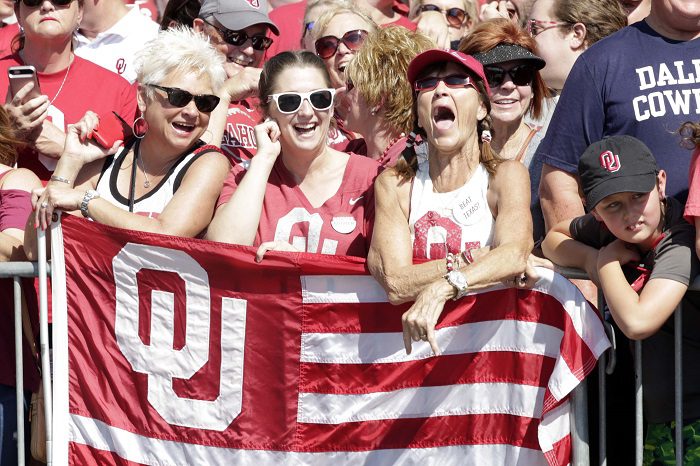 Bedlam was ugly for Oklahoma State. But a new report shows that it may have been even uglier than simply what just happened on the field.
According to multiple reporters, Oklahoma State's student equipment managers had multiple run ins with OU fans when they would enter the stands to retrieve game balls following extra points and field goals (which is sometimes part of their responsibilities.
Here's one example:
The end of the post reads, "Yesterday, last field goal on the north end, DJ was attacked by 5 adult men OU fans who tried to get the ball away from him. They punched him and threw beer on him. He has a broken rib and is very sore. I don't care who you are; there is no excuse for this type of behavior. Not a good look on OU or OU fans."
As the poster goes on to point out, a handful of fans do not and should never represent an entire fan base, but this is obviously an ugly allegation.
According to one fan I spoke with at the game, "The video board operators didn't help the cause, knowingly or not, because the first time it happened they showed the OSU student manager running back onto the field with the ball and the crowd erupted in boos. So the next time the ball went in the crowd some fans, who appeared very inebriated, were looking to get the ball themselves."
Another fan with Oklahoma State told me, "I was on the far OSU sideline away from the side where the fans were, but the managers were at my end and I heard them talking about it when they came back after the first time (not the bad scuffle) and they didn't love it."
Regardless, this does not represent all Oklahoma fans. As someone who used to work in the state and attended games at both stadiums, the large majority of fans are good people watching football. But as was noted above, there are bad apples all over. And with stadiums not full due to COVID-19, it may have indirectly given more leeway to shenanigans breaking out with less policing by security and other fans than usual.
UPDATE: Video has surfaced of one of the altercations.
Here it is.
**Want to win a $20 gift card? Go sign up here and join our conversation! The best poster each week wins a gift card to your favorite establishment!**