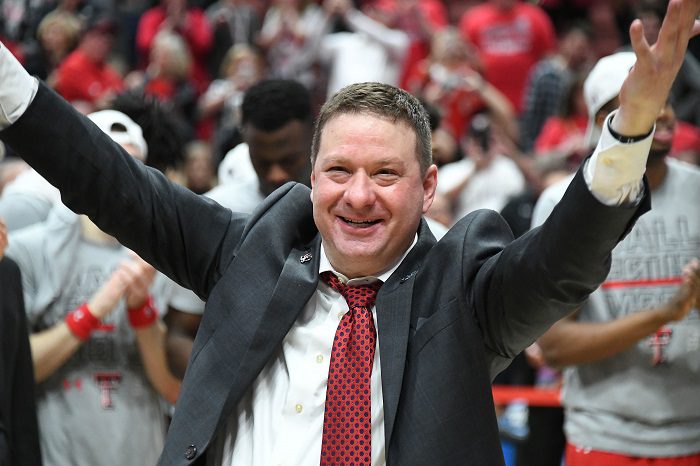 Texas Tech coach Chris Beard said he 'wasn't aware' that the Red Raiders' win against Texas A&M-Corpus Christi Dec. 12 was his 100th in Lubbock.
I'm not buying it, if we're being perfectly honest. But, hey, history lesson time, right? And it gives us time to take stock of what Beard has done during his time at Texas Tech as he and the Red Raiders try to claim their first Big 12 win of this season when they face Oklahoma tonight.
Beard's career record is now 100-46 at Texas Tech (196-76 as an NCAA head coach). That doesn't sound like much for a basketball program that has been around since 1925. But, Beard is just the seventh Texas Tech men's coach to win at least 100 games. In fact, he's now tied with Gene Gibson, who coached eight seasons from 1961-69 and went 100-92. So, should Beard and the Red Raiders beat OU tonight, the Beard will move up to No. 6 on the all-time Red Raiders' coaching list.
In front of Beard and Gibson are Berl Huffman (116), Bob Knight (138), James Dickey (166), Polk Robison (255) and Gerald Myers (325). Myers, of course, led the program for 20 years before moving into the athletic director's position. So Beard has a LONG way to go to catch Myers. But, it's quite possible for Beard to catch Huffman this season and his mentor, Knight, next season. In fact, considering what Beard has built in Lubbock, he could catch Dickey in the next three seasons.
But, for all those games that Myers, Robison, Dickey and Knight won, Beard has done things that none of them came close to while leading Texas Tech.
Beard has led the program to the 2018 NCAA Elite 8, the 2019 Big 12 regular-season championship and the 2019 NCAA Championship Final, places the Red Raiders had never been before. He was named the 2019 Associated Press National Coach of the Year and the 2018 and 2019 Big 12 Coach of the Year.
On top of that, Beard has quickly turned Lubbock into a recruiting and transfer destination since he arrived before the 2016-17 season.
Beard's first significant recruiting class in 2017 yielded Davide Moretti, Zhaire Smith and Jarrett Culver. Smith and Culver were first-round NBA Draft picks, while Moretti is now playing professionally overseas. The development of Smith and Culver from players that were on the fringes of the 247Sports.com Top 200 to NBA Draft picks was crucial to Beard building credibility with recruits.
Kyler Edwards has become the centerpiece of the 2018 Class, though Khavon Moore — who later transferred — was more highly regarded.
The 2019 Class, coming the same year as the Red Raiders' run to the national title game appearance, brought in two Top 100 players in Jahmi'us Ramsey — who is now in the NBA — and Terrence Shannon Jr., who may be on his way next year. That class was ranked No. 16 overall.
The 2020 Class was even better, ranked No. 10 by 247Sports and features Ramsey's former high school teammate, Micah Peavy (who is already a starter) and Nimari Burnett, both Top 50 players. The 2021 Class is already shaping up into something special, as the Red Raiders signed Top 40 national recruit Jaylon Tyson in the early-signing period.
Per 247Sports.com, Beard has pulled six of the program's Top 9 recruits in program history (of course, that only goes back as far as 247Sports has been around).
Beard has also done tremendous work on the transfer market. Tariq Owens and Matt Mooney were one-year transfers that contributed heavily to the Red Raiders' run to the 2019 NCAA Final against Virginia. Last year Beard pulled Virginia forward Chris Clarke and Stephen F. Austin forward T.J. Holyfield. For this season, the Red Raiders have three — leading scorer Matt McClung (Georgetown), Jamarius Burton (Wichita State) and Marcus Santos-Silva (Virginia Commonwealth). McClung and Santos-Silva are starting.
Beard has found a formula and it's working for a program that has never enjoyed this kind of success. It's a big reason why Beard is a popular name when coaching carousel time comes around (and he'll be popular again this spring).
But, as long as Beard remains in Lubbock, the Red Raiders are likely to remain relevant. Beard's first 100 wins with the Red Raiders speak to that. And Tech fans hope there's so much more to come.
**Want to win a $20 gift card? Go sign up here and join our conversation! The best poster each week wins a gift card to your favorite establishment!**