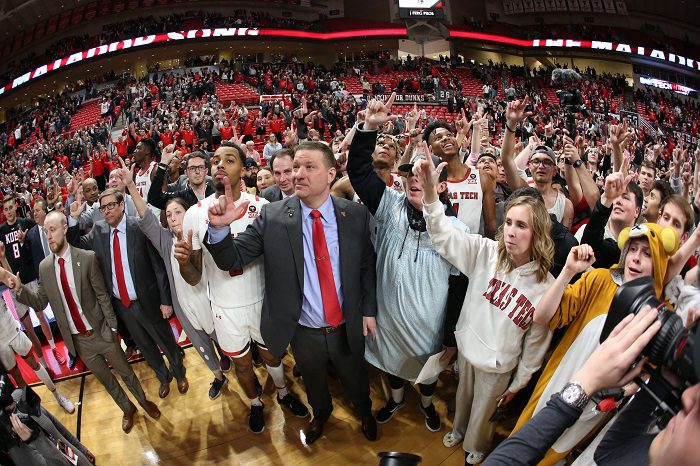 The Texas Tech Red Raiders have a long history in the NCAA Tournament. Here we dive into that history and other notable facts about the Red Raiders' appearances in March Madness.
Texas Tech Red Raiders
NCAA Tournament Appearances: 1954, 1956, 1961, 1962, 1973, 1976, 1985, 1986, 1993, 1996, 2002, 2004, 2005, 2007, 2016, 2018, 2019, 2021
Final Four Appearances: 2019
National Championship Game Appearances: 2019
National Titles: None.
Remember This About Texas Tech in the NCAA Tournament
The Lean, Early Years: The Red Raiders made nine NCAA Tournament appearances between 1954 and 1993. During that time the Red Raiders went just 3-10. In 1961, the Red Raiders notched that first win in a Sweet 16 third-place game, beating Houston, 69-67. Yes, the Red Raiders lost to Cincinnati in the Sweet 16, and then won a consolation game after that. Cincinnati went on to win the first of two national titles in a row. The Red Raiders won their first non-consolation tournament game in 1962, defeating Air Force, 68-66. They then lost two straight games — a Sweet 16 game to Colorado and a regional third place game to Creighton. The third win came in the first round of the 1976 tournament, with the Red Raiders beating Syracuse, 69-56. The Tournament ended with a 86-75 loss to Missouri.
READ MORE: March Madness Big 12 Conference Rewind: 2018
READ MORE: March Madness Big 12 Conference Rewind: 2019
The 1996 Team: Texas Tech dominated the final season of basketball in the old Southwest Conference, and that dominance extended to the NCAA Tournament, as head coach James Dickey guided the Red Raiders to a No. 3 seed in the tournament. The Red Raiders defeated No. 14 seeded Northern Illinois, 74-73, followed by a second-round win over No. 6-seed North Carolina, 92-73. The run ended in the Sweet 16 with a 98-90 loss to No. 2 seed Georgetown.  That was Texas Tech's first run to the Sweet 16 in the modern era of the NCAA Tournament, but their fourth trip overall.
8-2: The Red Raiders won eight of their 10 games in the 2018 and 2019 NCAA Tournaments under head coach Chris Beard. The 2018 Tournament ended in the Elite Eight. The 2019 Tournament ended with the Red Raiders' first trip to the National Championship game, which ended in an overtime loss to Virginia.
**Want to win a $20 gift card? Go sign up here and join our conversation! The best poster each week wins a gift card to your favorite establishment!**