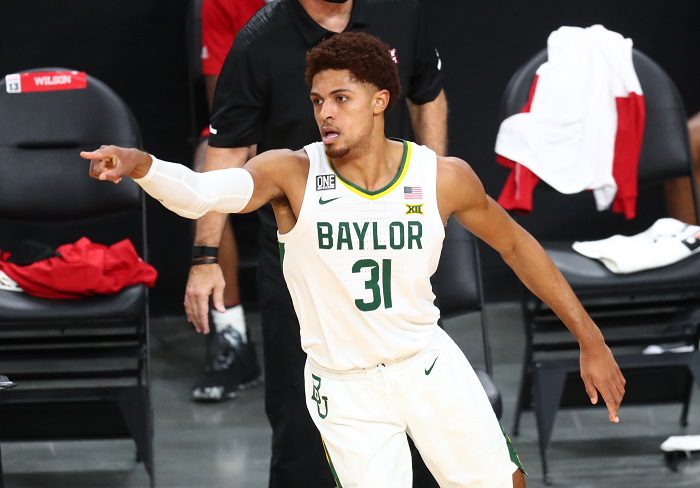 The Baylor Bears will play the Villanova Wildcats in the Sweet 16 of the 2021 NCAA Tournament on Saturday. Here is a preview of the game.
No. 1 Baylor (24-2) vs. No. 5 Villanova (18-6), 4:15 p.m. CT, Saturday, TV: CBS
Region: South
Location: Hinkle Fieldhouse, Indianapolis, Indiana
National rankings: Baylor: No. 3 (AP), No. 3 (USA Today); Villanova: No. 18 (AP); No. 17 (USA Today).
Path to March Madness: Baylor: At-large berth (lost in Big 12 Tournament semifinals); Villanova: at-large berth (lost in the Big East Tournament quarterfinals).
NCAA Tournament history: Baylor and Wisconsin have never met in the NCAA Tournament.
2021 NCAA Tournament Results: Baylor: def. Hartford, 79-55 (first round); def. Wisconsin, 76-63 (second round); Villanova: def. Winthrop, 73-63 (first round); def. North Texas, 84-61 (second round).
Winner faces: Arkansas or Oral Roberts in the Elite Eight of the NCAA Tournament on Monday.
Vegas Odds: Kansas (2008) has been the only Big 12 team to win a National Title title since the conference was formed in 1994, however this year Baylor has the second-best odds to win the championship with odds at +325 just behind Gonzaga (+158), according to SportsBettingDime.com.
Projected starting lineups
Baylor: G Jared Butler, G Davion Mitchell, G MaCio Teague, G Mark Vital, F Flo Thamba.
Villanova: G Chris Arcidiacono, G Caleb Daniels, F Jermaine Samuels, F Brandon Slater, F Jeremiah Robinson-Earl.  
READ MORE: 2021 NCAA Tournament: Schedule, Printable Bracket, Dates and Times
READ MORE: Podcast: Ashley Hodge, SicEm365 on Baylor's Sweet 16 Run
Player to watch
Baylor: Davion Mitchell. He's a Naismith Defensive Player of the Year award finalist. He's the Big 12 Defensive Player of the Year. And, he's the Baylor Bears Connect Four Tournament champion. Apparently there is nothing the junior cannot do right now. Against Wisconsin in the second round, Mitchell scored 16 points, pitched in eight assists, and had two steals and a rebound, too. In the first round, against Hartford, Mitchell had 12 points, six rebounds, three assists, two blocks, and three steals. Mitchell has scored in double figures in eight straight games, and that's the sort of rhythm he's been in for four weeks. He enters the Sweet 16 averaging 14.1 points, 2.7 rebounds and 5.4 assists, while shooting 52.1 percent from the floor. Plus, he has those mad Connect Four skills.
Villanova: Jeremiah Robinson-Earl. The injury to Connor Gillespie left a gaping hole in the Villanova lineup. But Robinson-Earl was already a huge part of Villanova's lineup before Gillespie was hurt, so much so that Gillespie and Robinson-Earl shared the Big East Player of the Year award, along with All-Big East First Team honors. Since Gillespie's injury on March 3, Robinson-Earl has averaged 19.3 points per game, along with nine rebounds, including two double-doubles along the way. Against Winthrop in the first round, he had 22 points and 11 rebounds. Then, against North Texas, he had 18 points and six rebounds. Head coach Jay Wright, as always, has done a masterful job of moving the pieces around to do whatever possible to fill the gap with Gillespie's injury. But, Jeremiah-Earl will have to lead the way.
Right now in the NCAA Tournament
Baylor: The Bears have now won seven of their last nine games since they returned from their long COVID-19 pause, and are in the Sweet 16 for the fifth time under head coach Scott Drew. The Bears have had two quality NCAA Tournament games so far. The Bears have played consistent offense, but it's their defense that has stood out. Against Hartford, the Bears held the Hawks to 22.7 percent shooting, had a plus-12 rebounding edge and forced 24 turnovers. Then, against Wisconsin, while the Badgers shot 45.5 percent from the floor and only had 14 turnovers, the Bears shot the exact same percentage and had a plus-10 edge in turnovers. The Bears shot nearly 10 percent better from the 3-point line, too. Baylor also added a bit of an offensive wrinkle against Wisconsin — a back-side alley-oop that made use of Flo Thamba and Jonathan Tchamwa Tchatchoua at the basket. Maybe it's not a new wrinkle, but the Bears used it more often and it took the Badgers a bit by surprise. Anything to give defenses more to worry about could be a good thing for the Bears.
Villanova: It's been a ride for Villanova this season. Considered a Top 5 team coming into the season, the Wildcats suffered a similar COVID-19 pause to the Bears, but it came in December and January. The Wildcats ultimately lost five games due to COVID pauses, both their and other teams' but they remained in the Top 5 until they lost Gillespie on March 3 to a torn MCL. That changed the direction of the Wildcats' season. They hit a rough patch, losing their season finale to Providence and then in the quarterfinals of the Big East Tournament against Georgetown. The Wildcats found some balance in the NCAA Tournament, but were fortunate to draw North Texas in the second round after beating Winthrop. Aside from Robinson-Earl, the Wildcats also have Justin Moore (12.8 ppg) and Jermaine Samuels (11.9 ppg) averaging double figures per game. Arcidiacono is a recent addition to the starting lineup, and watch for Bryan Antoine and Cole Swider to get minutes off the bench.
Who wins?
Baylor. Villanova is still a quality team. Robinson-Earl is a player that is capable of putting up 20 points and 10 rebounds on the Bears. Plus, the Wildcats match up differently with three forwards against Baylor's four-guard starting lineup. But, with the loss of Gillespie, that not only means the Wildcats' starting lineup takes a hit, but it also means the Wildcats' bench takes a hit. That gives Wright fewer options to use on the floor, and when you go up against Baylor you need all the options you can get. Baylor will want to play with pace and they should be able to influence that in this game. More importantly, Baylor's defense has been top-notch so far this tournament, and that could be the biggest difference in this game. I think Baylor will keep the Wildcats out of any sort of offensive flow early, take control, and move on to the Elite Eight.
You can find Matthew Postins on Twitter @PostinsPostcard
**Want to win a $20 gift card? Go sign up here and join our conversation! The best poster each week wins a gift card to your favorite establishment!**