Big 12 News
Joe Castiglione 'Mindful' Of How Sooners Will Be Treated in Big 12 Road Games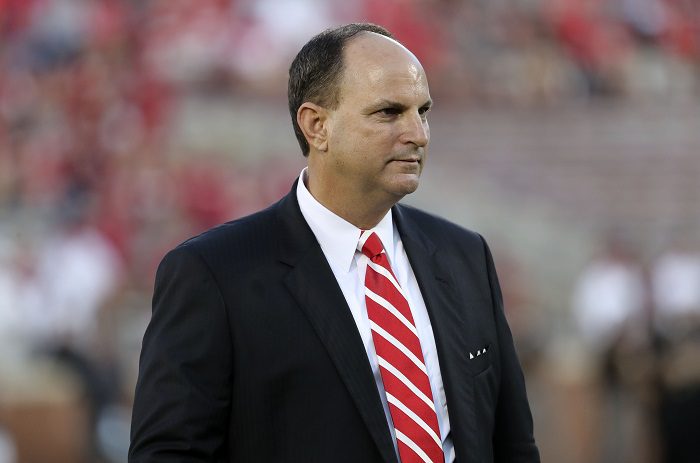 The Oklahoma Sooners are about to play their first Big 12 road game and how they'll be treated is certainly on the mind of OU athletic director Joe Castiglione.
The Sooners will be on the road at Kansas State on Saturday. It will be their first conference road game since the announcement that Oklahoma and Texas will head for the Southeastern Conference in four years.
Castiglione told Yahoo! Sports' Pete Thamel that he and his staff have thought about the treatment they could receive on the road in Big 12 play.
"Wouldn't someone be obtuse not to think of that?" Castiglione said. "We're mindful of all of the different experiences that we may face. We've talked about that. I believe that everyone just accepts it, understands it and turns all their attention to focusing on that game. That's it. We've played in very challenging environments forever. It's certainly something in the back of our minds."
Texas is also on the road this Saturday at TCU.
Thamel's piece is wide ranging but focuses on the new dynamic in the Big 12. Thamel spoke to athletic directors and conference officials that have been through these conference breakups, including former Missouri athletic director Mike Alden, who presided over the Tigers' exit from the Big 12 to the SEC. The topic was what OU and Texas could expect.
Alden told Thamel that it's "tough to co-exist." Former Big East associate commissioner for football Nick Carparelli Jr., who helped manage the conference's revolving membership door, called that time "…a total mess. There's nothing easy about it." Former Boston College coach Tom O'Brien told Thamel that, during the 18 months that BC was exiting the Big East for the ACC, opposing coaches were sharing information to help each other beat the Eagles. At the end of the 2004 season, O'Brien told reporters "I'm glad it's over."
That's unlikely to sway fans of the rest of the Big 12 who are hoping to give the Sooners and Longhorns a piece of their minds when they're hosting the two teams the next four years.
And that first opportunity comes on Saturday.
READ MORE: HCS Roundtable: Best Week 5 Game in the Big 12 Conference
READ MORE: Why Mike Gundy, Oklahoma State Best Positioned to be 'Face' of New Big 12
You can find Matthew Postins on Twitter @PostinsPostcard.
**Want to win a $20 gift card? Go sign up here and join our conversation! The best poster each week wins a gift card to your favorite establishment!**