Big 12 News
Lincoln Riley 'Fully Expects' Spencer Rattler to Remain with Oklahoma This Season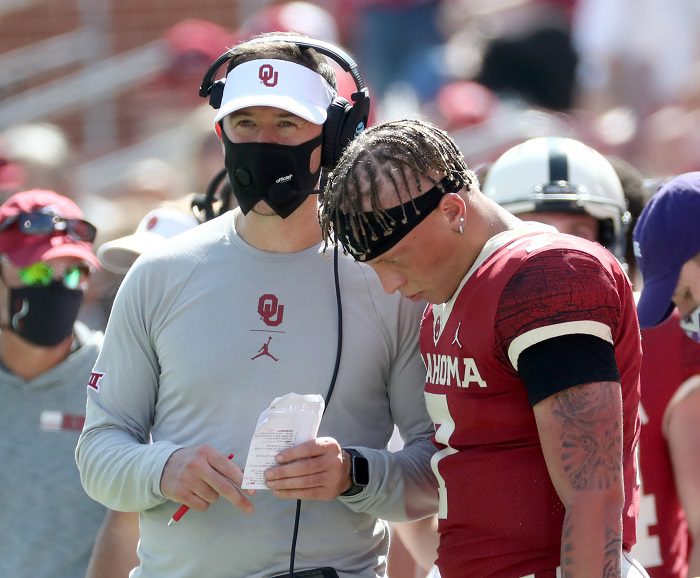 The Oklahoma Sooners suddenly have a quarterback controversy. After Caleb Williams replaced Spencer Rattler against Texas and led OU to a comeback win, Lincoln Riley continues to field questions about what he plans to do at quarterback this weekend against TCU.
Then, with the way today's transfer portal works, if Caleb Williams is the guy going forward, what might Spencer Rattler do?
Riley addressed his local media in Norman on Tuesday and had a lengthy answer, saying, "So, there's never any guarantees. I mean you can't predict the future, but I would fully expect to have both those guys, the entire season. I would. Again, I know there's never 100% but I think both those guys are pretty committed to this football team. I think it's a factor. I think, as you plan long term, it is. I think what we've tried to preach with our guys especially in the middle of the season, I mean one is your commitment level to this place and then these opportunities pop up … I could go through 50 guys right now of guys that maybe an opportunity didn't show and then all of a sudden, bam, here you go. But I think our point to these guys has been as this question has been brought up, I'm not talking about the quarterback just the team in general, has been what is the advantage for leaving midseason?"
Riley then went on to point out any player leaving the program mid-season would be awfully short-sighted, even if they wanted to play elsewhere, adding, "If you're wanting to leave and go search for another opportunity, then that's fine but you're going to leave. … You can't practice football on your own. You can train and do all that but you can't actually practice football by yourself. So here you can be sharpening your skills, helping the team in a way and maybe opportunity pops up here, bam you're ready. And if it doesn't, all you've done is make yourself more marketable and more ready for the next stop. And then the other thing I've told these guys, I've been honest about it. And I get maybe other coaches (don't feel) this way and I don't want to speak for everybody but I can tell you personally, if I'm looking at a guy, maybe it's a potential transfer coming here, and that guy quit on his team midseason, unless there's a extenuating circumstance, I'm going to have a hard time taking him. And I think a lot of other coaches would echo that as well. So, I mean because the question in your mind comes up as well. He did it there, why wouldn't he do it here with us?"
Oklahoma and TCU kick off this weekend at 6:30 on Saturday night at ABC.