Trending Now
One Honor Deserved, Another Absurd in Stillwater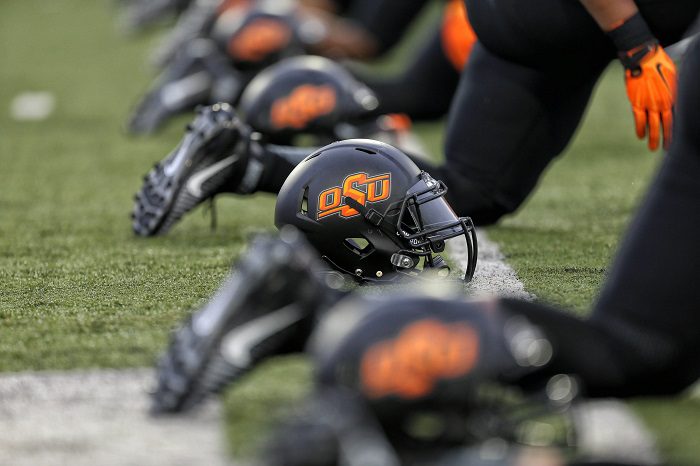 What happened in Stillwater last weekend was a really cool event, but another that happened a few years ago is ludicrous.
Honoring A Legend
 The cool event was honoring tailback Barry Sanders with a statue celebrating his three-year career as OSU's and NCAA's single-season rushing leader. Oklahoma State also recognized Sanders with his name on the "Ring of Honor" at Boone Pickens Stadium. Well-deserved for one of the greatest running backs in college football, followed by a stellar career as the RB for the Detroit Lions. Sanders set the NCAA single-season rushing record with 2,850 yards during his junior year, which earned him the 1988 Heisman Trophy.
Some might argue that Sanders was the best back in Cowboys football history, but his coach at OSU, Pat Jones, declared Thurman Thomas was the best back he ever coached while broadcasting on Oklahoma City's Sports Animal radio show.
The Honor In Question
What's ludicrous is the fact that Oklahoma State University is proud that its 1945 football team has been declared national champions 71 years after its undefeated season. The American Football Coaches Association (AFCA) declared the Cowboys (then known as the Oklahoma A&M Aggies) as the 1945 national champions. The university is so happy that it has had a sign placed inside Boone Pickens Stadium declaring their newfound title, and the football media guide has a whole page dedicated to the 1945 champs.
"After gathering all the pertinent information and doing our due diligence, it is the pleasure of our Blue Ribbon Commission of coaches to officially recognize Oklahoma State's 1945 championship season with the AFCA Coaches' Trophy," AFCA executive director Todd Berry said last five years ago when the championship was announced.
Schools who felt they had a legitimate bid for the title submitted their reasons why and the committee would then hear their case and decide. A poll developed for coaches to vote for college football's best teams began in 1950 to rival the Associated Press poll, which is voted upon by media members.
But, I wonder what pertinent information Berry and the AFCA were researching? The AFCA put together the Blue Ribbon Committee in 2016 to retroactively declare national champs in college football between 1922 and 1949. The AFCA has yet to award other national championships retroactively—only 1945.
That Blue Ribbon Commission consisted of former coaching greats, but one could question the credibility of this commission. After all, they are retroactively grading something that happened nearly 70 years prior to the committee being formed. Former Baylor coach Grant Teaff was 81 years old when he participated in the commission. Georgia's Vince Dooley was 83, and Texas A&M's R.C. Slocum was the pup at 71. They were merely children back in 1945, the year in question.
What Are The Facts?
Credibility aside, let's compare Oklahoma A&M to Army, which won the AP national championship.
Both teams finished with identical 9-0 records in 1945. Alabama also was unbeaten with a 9-0 mark; 10-0 after winning the Rose Bowl.
Coach Jim Lookabaugh led the 1945 Aggies to their only undefeated season in school history, and they won the Missouri Valley Conference. They outscored opponents 285-76. The defense has been unmatched in Aggie/Cowboy history as it held opponents to an average of 188.3 yards and 7.9 points per game, still school records.
The Aggies were led by two-time All-Americans, Bob Fenimore, and Neill Armstrong. Fenimore, a halfback, finished third for the Heisman Trophy after leading the nation in both rushing and total offense. Armstrong, a star at both defensive end and receiver, became the head coach of the Chicago Bears from 1978-81. Fenimore is a member of the College Football Hall of Fame.
The Aggies only defeated two ranked teams that year. They edged No. 9 Tulsa, 12-6, in Stillwater and hammered No. 7 St. Mary's, 33-13, in the Sugar Bowl. The Aggies' opponents finished the 1945 season with a combined record of 44-42-3.
The Pokes finished fifth in the AP poll behind Army, Alabama, Navy, and Indiana.
Army's Powerhouse Squad
Army was the defending national champion with a 9-0 record from 1944. Coach Earl "Red" Blaik again led the 1945 Army Cadets to another undefeated record, and that 1945 squad outscored its opponents, 412-46. They defeated five ranked teams convincingly—28-7 over No. 9 Michigan, 48-13 over No. 19 Duke, 48-0 over No. 2 Notre Dame, 61-0 over No. 6 Penn, and 32-13 over No. 2 Navy. No reason has been found why the Cadets did not participate in a bowl game that year.
Nevertheless, the Cadets overpowered four ranked teams by an average of 36.8 points. The Aggies beat two ranked opponents by an average of 13 points.
Army boasted six All-Americans: halfback Glenn Davis, fullback Felix "Doc" Blanchard, tackles DeWitt "Tex" Coulternad Albert Nemetz, end Hank Foldberg, and guard John Green. Blanchard won the Heisman Trophy in 1945, and Davis won the award a year later.
Some experts believe that 1945 Army team was one of the best. Certainly, the pollsters back then thought so. All but one of the 116 media members voted Army No. 1. The other vote went to Alabama, which finished 9-0 before defeating USC, 34-14, in the Rose Bowl.
Army would have beaten the Aggies by at least three touchdowns.