Big 12 News
Future Big 12 Member Dominating Cross Country, Soccer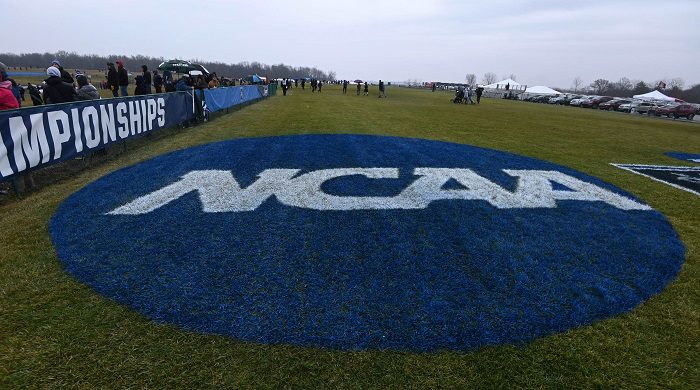 For just the second time in NCAA history, the same school swept the individual NCAA Cross Country Championships. BYU's Conner Mantz successfully defended his National Championship to become the first repeat champion since 2015. Whittni Orton won the National Championship on the women's side. It's clear that Big 12 Cross Country is going to be the premier conference if it isn't already.
BYU's Cross Country Dominance
The Big 12 Conference dominated the women's side, having three runners finish in the top five. That doesn't include National Champion Whittni Orton of BYU, who finished the women's 6K in 19:25.4. The BYU women finished in second place in the team standings with 122 points. North Carolina State won the National Championship with 84 points. The best finish by a Big 12 team was Iowa State in ninth with 332 points. The Cyclones were led by Big 12 Champion Caillie Logue, finishing in a time of 19:29.8. Oklahoma State finished in 13th place and was led by Taylor Roe. The Oklahoma State junior crossed the finish line in 19:33.5. Finishing in 21st place with 489 points was West Virginia. While West Virginia may have had the worst team performance at the NCAA Women's Cross County Championships, they produced the best result of any individual from the Big 12 Conference. Celli McCabe took home the bronze medal with a time of 19:29.5. McCabe is just a sophomore, thus the ceiling is quite high.
On the men's side, Conner Mantz successfully defended his National Championship by finishing the Men's 10K in a time of 28:33.1. While Mantz will not compete in the Big 12 Conference, this is obviously an accolade BYU will use to continue recruiting runners who are the caliber Mantz is. The Big 12, however, does boast a runner who finished second. Big 12 Men's Cross Country Champion, Iowa State's Wesley Kiptoo, took the silver medal finishing at 28:38.7. Also finishing in the top 10 was BYU's Casey Clinger in ninth with a time of 28:55.7. Despite having two runners finish in the top 10, BYU finished seventh in the team standings. Iowa State finished second in the team standings with 137 points. Northern Arizona won the men's title with just 98 points having three runners finish in the top 11. Oklahoma State finished in third place with 186 points. Isai Rodriguez was Oklahoma State's highest point-getter, finishing in 22nd place individually. Texas finished in 14th place.
Cougars Surging on Soccer Field
BYU isn't just dominating cross country though. The women's soccer team flew to Charlottesville, Virginia, and racked up two victories to continue its season. The first victory saw No. 4 BYU obliterate Alabama 4-1 Thursday night. BYU did not wait long to start the scoring as Senior midfielder Mikayla Colohan found Senior forward Cameron Tucker for the first goal just 3:58 into the match. Colohan would proceed to add a hat trick. BYU was up 3-0 by halftime. After the dominating performance, the Cougars took down No.1 Virginia 1-0 on the Cavaliers' own home field. Senior goalkeeper Cassidy Smith claimed a clean sheet, but only needed three saves to do so, signaling a complete team effort to stifle Virginia's offense. It was Tucker who produced the lone goal at 46:26. BYU will now face South Carolina in the quarterfinals. The information on this game is to be determined as of Sunday night. If BYU wins, they will head to Santa Clara, Calif. for the College Cup on Dec. 3.
Horned Frogs Eliminated After Impressive Season
The lone remaining Big 12 team, No.4 TCU advanced to the Sweet 16 after defeating Princeton 3-2 in double overtime. Senior forward Messiah Bright finished her hat trick at the 105:32 mark by producing the golden goal. Freshman forward Camryn Lancaster assisted Bright on all three goals. Junior midfielder Gracie Brian also produced an assist on the first of Bright's three goals. In the Sweet 16, TCU took host No.1 Rutgers to the absolute limit. After finishing regular time and overtime 1-1, penalty kicks were necessary. Both teams scored goals on each of the first four attempts. Then, each team missed two attempts. Finally, Rutgers was able to end TCU's season on the seventh attempt. Despite the disappointment, TCU's season should not go unrecognized. The Horned Frogs finished 19-2-3 with a 7-1-1 conference record. TCU has back-to-back Big 12 Regular Season Championships and secured its first-ever Big 12 Tournament Championship.
West Virginia Advances in NCAA Men's Soccer Tournament
The No.11 West Virginia men's soccer team also went into penalty kicks in its NCAA Tournament match. The Mountaineers advanced after defeating Virginia Tech 4-3 in penalty kicks Sunday at Dick Dlesk Soccer Stadium after a 1-1 draw could not determine who would advance. Senior forward Ike Swiger produced West Virginia's lone goal just 6:31 into the match. This gave West Virginia a 1-0 lead, but the Hokies would answer with a goal in the second half. Each team found the back of the net in their first two attempts. They both missed the third attempt. After Virginia Tech missed a second consecutive attempt, Fifth Year Senior midfielder Pau Jimenez Albelda scored the winning goal to send West Virginia into the third round. The Mountaineers will play at Tulsa at 8 p.m. EST/7 p.m. CST on Nov. 27 at Hurricane Stadium. The Big 12 Conference does not sponsor men's soccer, thus West Virginia is a representative of the Mid-American Conference in the NCAA Men's Soccer Championships. West Virginia is the only Big 12 school to sponsor men's soccer.