Trending Now
Watch: Oklahoma Football Employee Slaps Reporter's Phone Over Recording of Caleb Williams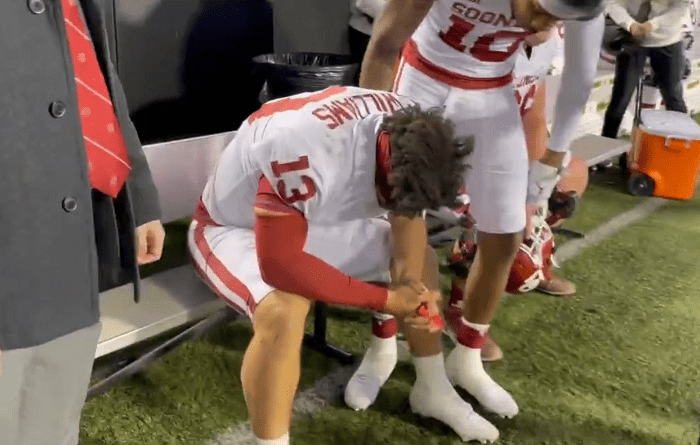 One of the most recognizable photos to come out of the Oklahoma State 37-33 win over Oklahoma was OU QB Caleb Williams sulking on the bench after the game.
Here's a look at the photo.
Well during the chaos to follow the Cowboys win, fans stormed the field and reporters were on the field, with many looking to get a shot of Williams. That included 247 Sports reporter Brandon Marcello who went over to Oklahoma's bench to record video of a dejected Williams after the game. Marcello was then stopped by OU personnel who slapped his phone and then tried to make sure he could not get any video coverage of Williams.
Here's the video.
Williams was understandably distraught, but in fairness it wasn't his fault. He went 20/39 for 252 yards and three touchdown passes, while also rushing for 36 yards. Williams found himself on the run all day with Oklahoma State's pressure giving him plenty of trouble.
But regardless, OU personnel was clearly not used to dealing with a moment like this either.