Big 12 News
Four-Star OL Jake Taylor Remains '100% Committed' to Oklahoma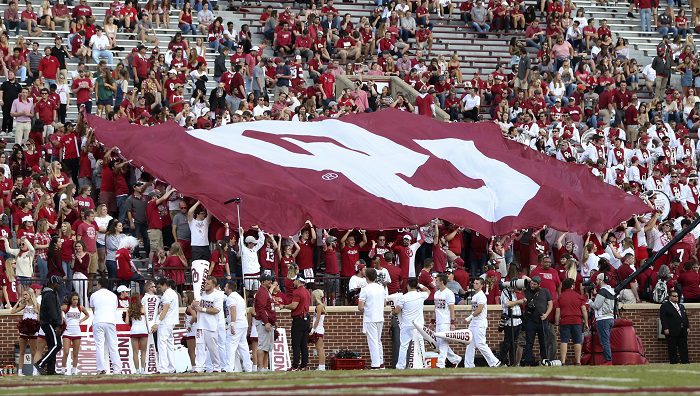 This has been the hardest week in recent memory for anyone surrounding the Oklahoma football program. Their prodigious 38-year old head coach left for USC on Sunday and has taken half of the staff to LA with him. Several players have decommitted from the 2022 and 2023 recruiting classes, and several key players have hit the transfer portal.
Bob Stoops has stepped in as the interim head coach and has stoped the bleeding to an extent, but a vacancy at the head coach position has left several recruits feeling uneasy about their commitment to Oklahoma and needing answers. However, there have been a few that pledged to be Sooners, and aren't shy about sticking around through the hard times in Norman.
2022 Bishop Gorman offensive lineman Jake Taylor is one of those guys. The four-star offensive tackle, who is ranked 10th nationally at his position, has made it very clear where he intends to be next fall.
This is huge news for Oklahoma and a rare positive headline for the Sooners this week. Taylor has been an anchor for this class for some time now, and as you can tell he's very happy about that.
Running backs coach, Demarco Murray has been vital in keeping the pieces of OU's future classes together and deserves a lot of credit for staying on the recruiting trail for the Sooners even though several of his co-workers turned in their gear for sun and sandy beaches.
Murray is also the primary recruiter for DeAndre Moore, a teammate of Malachi Nelson and Makai Lemon, who both decommitted from the Sooners when Lincoln Riley left. Instead of following suit, Moore doubled-down on the Sooners and reaffirmed his commitment to being in Norman in 2023.
With a piece to build around in both recruiting classes, Oklahoma can still bring home strong recruiting classes, which they will need moving forward if they hope to compete in the SEC. The elephant in the room still remains though, and a hiring a head coach, and quickly, is vital if OU hopes to turn this ship around.