Big 12 News
Oklahoma No. 1, Oklahoma State No. 3 in D1Softball's Preseason Top 25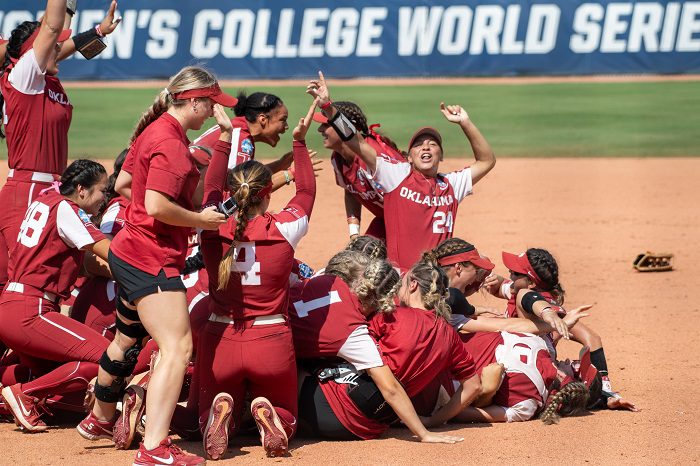 The reigning national champions look like strong contenders to repeat, if you ask D1Softball.com. The Oklahoma Sooners were historic in 2021, going 56-4 and breaking NCAA single-season records for team batting average (.405), home runs (161), on-base percentage (.490), slugging percentage (.778), runs scored (638) and total bases (1,279).
They return several key pieces from that team while adding the nation's top recruiting class, including the nation's top player, Jordan Bahl. They also add All Pac-12 infielder Alyssa Britto from Oregon and two-time All C-USA pithcer Hope Trautwein from North Texas, who became famous for pitching the first-ever "perfect game" in softball last season.
21 batters. 21 strikeouts. No walks or errors. That's pretty good, right?
Patty Gasso looks primed to bring home her sixth national title in 21 seasons with the Sooners. USA Collegiate Softball Player of the Year Jocelyn Alo leads a bevy of returning starters after hitting 34 home runs in 2021, which was an Oklahoma and Big 12 Record.
About 82 miles north of Norman is the nation's No. 3 team, according to D1Softball's rankings. Oklahoma State went 48-12 in 2021 and was eliminated from the WCWS by Florida State, the national runner-up last year. The Cowgirls also return several key players from their 2021 run, including Kelly Maxwell. She helped lead her team to the WCWS and limited opposing hitters to a .174 batting average.
After losing their Ace, Carrie Eberle, after the 2021 season, Maxwell was expected to shoulder all the weight for the Cowgirls, but she got some unexpected help in the offseason. Kenny Gajewski brought in two highly-touted pitchers: Texas transfer Miranda Elish and Illinois State transfer Morgan Day. Day finished the 2021 season with a league-leading 247 strikeouts – the 16th most in NCAA Division I and her 8 shutouts ranked No. 13 overall in Division I last year.
Those additions in the circle, coupled with the return of Kiley Naomi, Chyenne Factor, Hayley Busby and Sydney Pennington make Oklahoma a contender on the national scale and a favorite to win it all alongside the Sooners.
Texas also made the list at No. 9 after a 43-13 season in 2021 that was ended by Oklahoma State in the super regionals. The Longhorns finished 12th in the country last year and are looking to build on their fantasic season. They have added ormer Fresno State All-American fifth-year senior right-handed pitcher Hailey Dolcini, along with several transfers and incoming freshmen. Janae Jefferson, a three-time National Fastpitch Coaches Association (NFCA) All-American returns, as well as several key starters, including: Mary Iakopo, Shea O'Leary, McKenzie Parker, and Jordyn Whitaker. The Longhorns will make some noise nationally, they just have to beat two of the best teams in the country to win their conference.
Here is the complete Top-25, courtesy of D1Softball.com, with the Big 12 teams in bold.
1. Oklahoma
2. Alabama
3. Oklahoma State
4. UCLA
5. Florida
6. Florida State
7. Washington
8. Arkansas
9. Texas
10. Missouri
11. Virginia Tech
12. Michigan
13. Duke
14. Clemson
15. Arizona
16. Oregon
17. LSU
18. Tennessee
19. Georgia
20. Kentucky
21. Arizona State
22. Louisiana
23. Northwestern
24. Liberty
25. JMU