Oklahoma Sooners
Texas Tech Hangs on to Beat Oklahoma 56-55, Advances to Big 12 Championship Game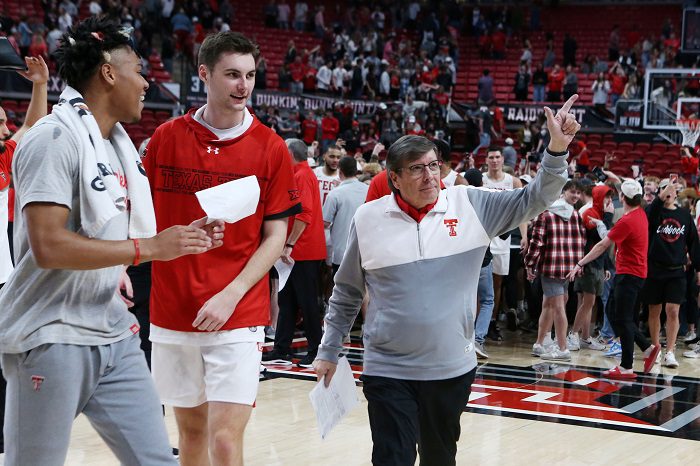 KANSAS CITY, MO — For just the second time in program history, the Texas Tech Red Raiders will play in the Big 12 Basketball Tournament Championship Game after beating the Oklahoma Sooners 56-55 on Friday night.
After Oklahoma led 3-2, it was followed by a three-pointer from Terrence Shannon Jr. and the Red Raiders were off to the races and carried a 37-26 lead into halftime. It was led by sharp shooting and strong perimeter defense. In the first half, Texas Tech shot 65% from the field, while holding Oklahoma to just 3-12 (25%) from three-point range.
To start the second half, Texas Tech led by as many as 14 points at 40-26, but then the Sooners, who are believed to be right on the NCAA Tournament bubble, started their comeback. Oklahoma powered ahead with a 19-4 run to take a 45-44 lead at the 8:53 mark.
The game would ping-pong back and forth, and with one minute remaining, the game was tied at 54. With 54 seconds remaining, a questionable foul call on Jalen Hill sent Clarence Nadolny to the free throw line, where he hit both foul shots. OU's Umoja Gibson missed a layup on the other end, before Oklahoma started to try and lengthen the game and fouled Kevin McCullar, who missed the front end of a one-and-one. Down 56-54, Oklahoma's Jacob Groves was fouled on a rebound, and hit the front end of a one-and-one, before missing the second. However a long rebound was tracked down by Oklahoma's Umoja Gibson, who was unable to get a shot off as time expired and the Red Raiders held on for the 56-55 victory.
Texas Tech's Davion Warren and Kevin Obanor scored 11 points each to lead the way, while Oklahoma had three players in double figures with Umoja Gibson (16), Jordan Goldwire (14) and Jalen Hill (13).
The Sooners will now await their fate on Selection Sunday.
For Texas Tech, it's just their second appearance ever in the Big 12 Tournament Title game. The last time the Red Raiders were in this game came in 2005, when they lost to the Oklahoma State Cowboys 72-68 at Kemper Arena in Kansas City.
The Red Raiders will take on the Kansas Jayhawks on Saturday night in the Big 12 Tournament Championship Game. Tip off is set for 5:00 from the T-Mobile Center in Kansas City.