Big 12 Basketball
Five Thoughts on End of 2021-22 Texas Tech Women's Basketball Season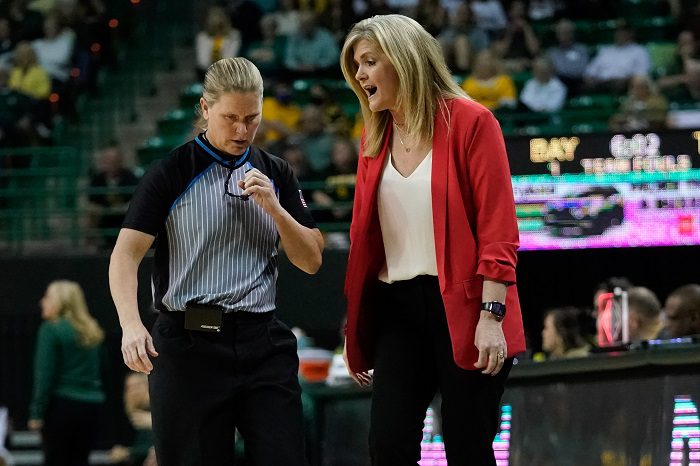 The Texas Tech Red Raiders' women's basketball season is done. Here are five thoughts about the 2021-22 season and what's ahead for the basketball program.
The Season
Texas Tech started the season hopeful that it could challenge to return to the NCAA Tournament. In non-conference the Lady Raiders went 7-5, and in early January they got a huge boost by beating Texas in Austin for the first time in nearly a decade. But as the season went on the Lady Raiders couldn't get Bre'Amber Scott right from an injury standpoint, which certainly would have kept Texas Tech closer to .500. The Lady Raiders did beat three Top 25 teams, also upending Kansas State and Oklahoma. But, in the Big 12 first round, the Lady Raiders fell to Oklahoma State, ending their season at 11-19 in head coach Krista Gerlich's second season.
Who's Leaving?
Texas Tech honored three players on senior day — guard Vivian Gray, forward Taylah Thomas and guard Lexy Hightower. Gray is the big loss, a fifth-year college player who was a four-time All-Big 12 First Team pick that scored more than 2,000 points at the Division I level. She has a chance to play in the WNBA. Thomas averaged 10 points and a team-leading 8.6 rebounds per game. Hightower transferred to Texas Tech from West Texas A&M for her final college season and averaged 8.3 points per game. The Lady Raiders are only losing three players, but they combined to average nearly 39 points per game. They'll be tough to replace.
Who's Coming Back?
Everyone else, barring transfers. That includes Scott, a guard who only played eight games due to injury but still averaged 8.4 points per game. She figures to be the focal point of the offense next season. After that you have guard Rhyle McKinney (7.8), forward Bryn Gerlich (7.4), center Khadija Faye (6.4) and center Ella Tofaeono (6.0). They can form the core of this team next season.
Who's Coming In?
The Lady Raiders took in transfer Jasmine Shavers in November, who came from Mississippi State. She enrolled in the spring and was the No. 55 player in the country in the 2021 class, per ESPNW. The Lady Raiders landed 5-foot-11 forward Bailey Maupin from nearby Gruver, who is the Dave Campbell's Texas Basketball Miss Texas Basketball Player of the Year. She is also a Top 60 recruit. Texas Tech also snagged Kilgore College product Tara Kessner (6-foot-2) and Mullen High (Denver, Colo.) product Kilah Freelon (6-foot-1). Maupin and Freelon both won state championships this spring. All three bring some height to the program.
What to Watch For
A stable summer in Lubbock. Gerlich has built a team that challenged ranked teams in conference play. There is momentum within the program to get it back to the Marsha Sharp days. It will take some time, but the young talent coming in should give the program a boost. The advantage of Shavers' transfer is that she has a spring to practice with the team and could, along with Scott, form a formidable 1-2 punch on offense, along with McKinney, Gerlich and either Faye or Tofaeono in the pivot.
You can find Matthew Postins on Twitter @PostinsPostcard.