Trending Now
Jimbo Fisher on Nick Saban: 'Go Dig Into His Past'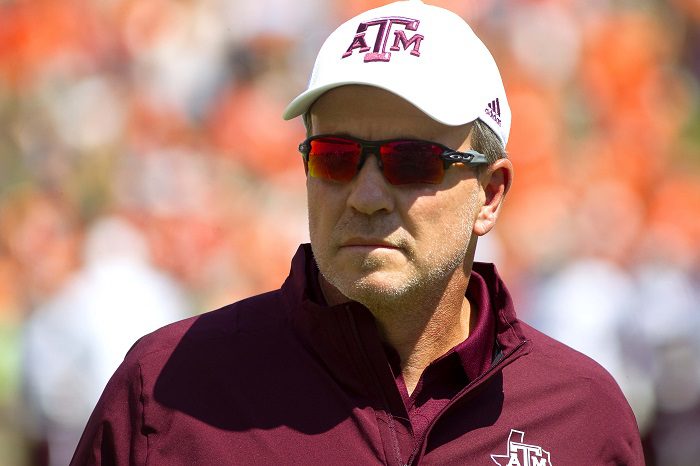 Texas A&M Coach Jimbo Fisher held a press conference on Thursday to respond to the comments made by Alabama head coach Nick Saban on Wednesday night.
Fisher didn't mince words during the press conference, either.
"Some people thing they're God," Fisher said. "Go dig into how God did his deal. You may find out about a guy, a lot of things you don't want to know. You make him the czar of college football. Go dig into his past."
Fisher also called Saban a "narcissist."
Saban was speaking at an event on Wednesday night and the discussion turned to Name, Image and Likeness. Saban took the opportunity to throw some shade at not only Texas A&M — which just cultivated the best recruiting class for the 2022 cycle — but also Jackson State and their head coach, Deion Sanders.
Saban's comments made the rounds on Twitter on Wednesday.
"We were 2nd in recruiting last year. A&M was first. A&M bought every player on their team. Made a deal for name, image and likeness. We didn't buy one player. But I don't know if we're going to be able to sustain that in the future because more and more people are doing it."
There is also video of his comments.
Why did Sanders' name come up? Saban claimed that Sanders recruited a player who got a $1 million NIL deal. That player was Travis Hunter, though there is only evidence that Hunter has signed one NIL deal with a coffee company.
Sanders will not let it slide, even though he and Saban did AFLAC commercials together last football season. He had not commented as of Thursday morning.
"You best believe I will address that LIE Coach SABAN told tomorrow. I was & awakened by my son @ShedeurSanders that sent me the article stating that WE PAYED @TravisHunterJr a Million to play at @GoJSUTigersFB ! We as a PEOPLE don't have to pay our PEOPLE to play with our PEOPLE."
For the record, Saban told reporters at a coaching convention last year that his quarterback — who had not played a game yet at that time — already had deals approaching seven figures. That quarterback turned out to be Bryce Young, who led Alabama to the national title game.
Saban also said his players made $3 million off NIL and did it 'the right way.' But when there are no rules, what, exactly, is the right way?
Saban apparently thinks he knows. But Fisher and Sanders aren't having any of it.
You can find Matthew Postins on Twitter @PostinsPostcard