Big 12 News
Oklahoma Ace Jordy Bahl to Make Postseason Debut in WCWS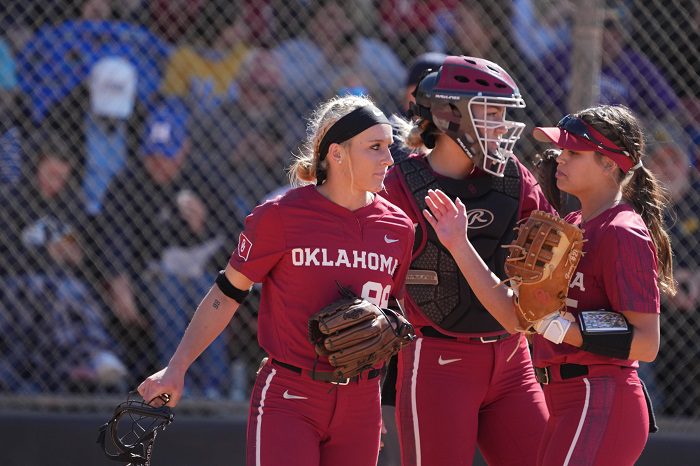 During media availability on Wednesday ahead of the Women's College World Series, head softball coach Patty Gasso made an announcement that Sooner softball fans have been waiting on for around three weeks.
When asked about Jordy Bahl's status entering the WCWS, Gasso had good news regarding Oklahoma's freshman phenom.
"You're going to see her pitch this week," Gasso said on Wednesday. "How much? We're still working."
Now, whether she will be on a pitch count has yet to be determined, but according to Ryan Chapman of SI Sooners, Gasso has been in close contact with Bahl, her family, and doctors about the situation.
"It's kind of like going into a laboratory and knowing exactly what you can and can't do, the timing of it, how many pitches," Gasso said. "We're still kind of putting all of that together.
"But we have followed doctor's orders and done everything we're supposed to do, including talking with Jordy, talking with doctors, communicating with her parents to make sure this is the right thing to do and she is not in enough severe pain, that if she was, this wouldn't even be an option. But we have done everything right, and that has allowed her to have this opportunity."
The 2022 NFCA Freshman of the Year will return for the Sooners sometime this week and will give OU another weapon at their disposal in Oklahoma City.
Bahl has 132.1 IP in her first season with OU, totaling 199 strikeouts to just 29 walks and an ERA of .95, which is good for fourth nationally.
In Bahl's absence, Nicole May and Hope Trautwein have been terrific, allowing just three runs in the tournament on eight total hits, including two no-hitters. Now, they add their most lethal strikeout pitcher back to the rotation and widen the gap between them and everyone else in the field.