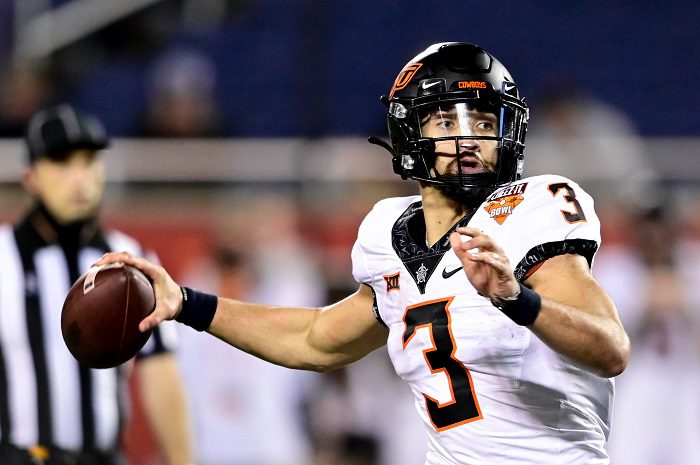 The Big 12 and the Pac-12 met in a showdown in Stillwater between Oklahoma State and Arizona State on Saturday night. Oklahoma State was coming off a solid Week 1 win against Central Michigan, while Arizona State had rolled Northern Arizona in its Week 1 match up.
But on Saturday night, it look some time, but the Pokes took control of the game, and rolled to a comfortable 34-17 win over the Sun Devils. There's a strong chance that the Cowboys move up into the Top 10 after Texas A&M and Notre Dame lost on Saturday.
Here are three thoughts on the game.
The Fumble That Changed It
Oklahoma State got off to a slow start. The Cowboys were trailing 3-0 after the first quarter. Several punts, plus a Spencer Sanders interception, meant the Oklahoma State offense was stalling out on all of its drives. But then, the Oklahoma State defensive line did its thing, as Brock Martin forced a fumble early in the second quarter against Xazavian Valladay, which was recovered by Tyler Lacy at the ASU 37-yard line.
Five plays later, Dominic Richardson punched it in from three yards out and the Cowboys took a 7-3 lead and never looked back. The Cowboys outscored the Sun Devils 17-0 in the second quarter and the win was in motion.
Dominic Richardson Had Himself a Night
As mentioned above, Richardson scored the first Oklahoma State touchdown of the game, which was just part of a huge night for Richardson. He finished the night with 27 carries for 131 rushing yards and one touchdown, while also racking up 44 receiving yards on five catches.
Richardson, a junior, is clearly poised to be the next featured back in Stillwater, and he has big shoes to fill after the last two seasons, with Chubba Hubbard and Jaylen Warren leading the OSU backfield in impressive fashion.
We'll see what kind of depth develops behind Richardson, but right now, only Jaden Nixon and Ollie Gordon have gotten any significant carries behind him. However, we know that Mike Gundy has no problem riding one featured back instead of having a rotating unit in the backfield.
Stillwater Dominance
Oklahoma State has had a great atmosphere at T. Boone Pickens Stadium for years, but maybe it's finally getting the attention it deserves as a nationally-recognized difficult place to play. The Cowboys have now won 10 home games in a row, which ties a program record.
I'm not expecting Boone Pickens to be named in the conversation with The Horseshoe, the Swamp, Tiger Stadium, etc., but between the tight sidelines, raucous crowd and great program built by Mike Gundy, this is not a road game, especially at night, that any team can take for granted.
The Cowboys are home next week to take on Arkansas Pine-Bluff before opening conference play at Baylor on October 1st.