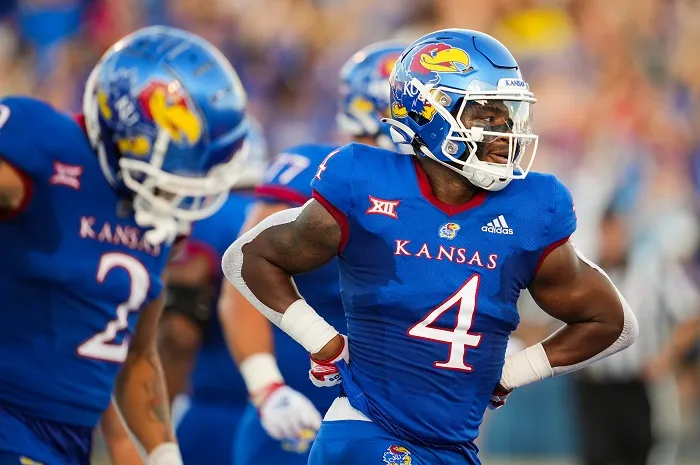 Here is everything you need to know ahead of the matchup between the Kansas Jayhawks and the Houston Cougars.
GAME INFO
Saturday, September 17, 2022; 3:00 p.m. CT; TDECU Stadium; Houston, Texas
TV: ESPNU (Kevin Brown, Hutson Mason, Casey Carter)
Radio: Jayhawk Radio Network (Brian Hanni, David Lawrence, Brandon McAnderson)
Records: Kansas 2-0 (1-0 Big 12); Houston 1-1
Rankings: N/A
Series History: Kansas leads series 3-0
Last Meeting: Kansas 42, Houston 13 (2005 Fort Worth Bowl)
Spread: Houston (-9)
Fun Fact: In their previous three meetings, Houston has never scored more, or less, than 13 points against the Jayhawks losing 42-13 (2005), 20-13 (1995), and 35-13 (1994).
KEY PLAYERS
KANSAS JAYHAWKS
QB Jalon Daniels
Jayhawks' quarterback Jalon Daniels is the biggest reason why KU is off to a 2-0 start in 2022, as the junior has completed 33 of 47 attempts for for yards and four touchdowns, adding 15 rushing attempts for 114 yards and one score through two games. His growth as both a leader and a passer have been apparent so far in this early season and his ability is in no short supply. The KU offense will go where Daniels leads it, and right now he is on fire.
LB Rich Miller
Kansas's leading tackler through two games, senior linebacker Rich Miller leads an opportunistic unit that was vital in KU's win over West Virginia last week. Miller paced the Jayhawks' defense with 12 tackles in that game and will likely be busy again this week in Houston. Cougars' QB Clayton Tune (who we will talk more about in a bit) is a dynamic playmaker and will keep Miller honest with a balanced attack.
HOUSTON COUGARS
QB Clayton Tune
Clayton Tune is the engine that makes things go for a Houston offense that is averaging 350 yards and 33.5 points per game. Last week, against Texas Tech, Tune was underwhelming, going 20-39 for 266 yards, one touchdown, and one interception. He will need to be better this week against an improved Kansas team that is capable of taking this game on the road.
LB Donavan Mutin
Senior linebacker Donavan Mutin has been a one-man tackling machine through two games for Houston and will hope to keep that trend against a dynamic quarterback in Jalon Daniels. Plus, the focus on RB Devin Neal will be important if Houston is to capitalize on being the home favorite. Mutin has 20 tackles on the year, 14 of which have been solo stops, good for 17th nationally.
KEY STORYLINES
KANSAS JAYHAWKS
Can the KU offense keep up this pace? As things currently stand, Kansas leads the country with 55.5 points per game, which is why they have gotten off to their impressive 2-0 start. Houston is definitely the best defensive unit that Kansas has seen to this point and will be a stiffer test for Jalon Daniels and company, but if the Jayhawks can continue their success by lighting up the scoreboard, I'm not sure that Houston could keep up in a shootout.
HOUSTON COUGARS
After a heart-breaker in Lubbock last weekend, Houston looks to come home and get right with a game against Kansas, except if that is how they see it, it may not go so well. This is a confident Kansas squad coming into the contest and any kind of hangover on the Cougars' behalf could lead them to a 1-2 start. A clean, controlled game from the UH offense, coupled with keeping Devin Neal and Jalon Daniels corralled is their best means of victory.
PREDICTION: KANSAS 34, HOUSTON 28
Call me a Jayhawks' apologist, but I would love nothing more than to see Kansas start off their year 3-0. I believe that KU has been much more convincing in its games thus far and while Houston's schedule to this point has been tougher, I think the more confident team wins this game. Devin Neal is a problem in the open field and Jalon Daniels is more than capable of creating plays with his arm and feet. KU gets a tough win on the road and the country starts to take notice of Lance Leipold's squad.