featured
HCS Roundtable Week 7: Big 12 Game of the Week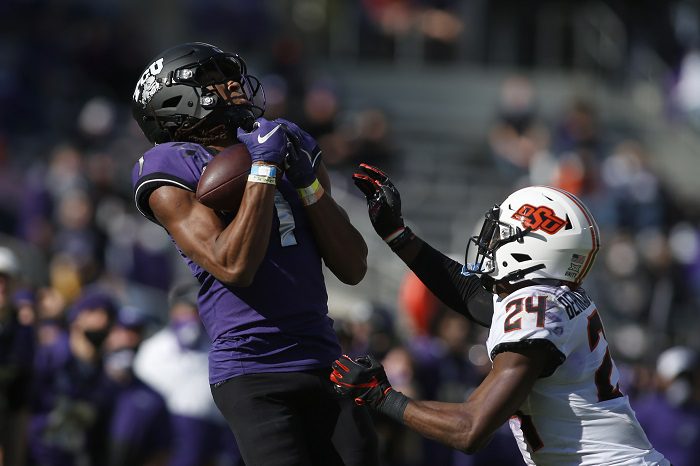 Some games are just better than others. It's a simple rule in the life of a college football fan and one that doesn't take long to figure out. Most nonconference games anymore are ho-hum, with FBS opponents taking on FCS opponents and beating their brains in by 42 points every other week.
Once conference play starts, things seem to get a little better, other than when your team plays the cellar dweller of the league (you know who you are).
However, on every magical Saturday, there are a handful of games that are truly spectacles in their own right; games that you absolutely cannot miss out on, so you set your DVR (or your VCR I suppose) so that you can catch all the action if you must choose one over the other.
Those are the games we wake up for on Saturday.
Here are this week's Heartland College Sports' Staff Big 12 Games of the Week.
Pete Mundo
Is this a trap game for Texas? It could be. Or are the Longhorns going to prove that they are a Quinn Ewers injury away from possibly being a Top 5 team in the country? Meantime, the Ewers-led offense against Iowa State's outstanding defense is the most interesting matchup of the weekend in the Big 12 Conference. And for Iowa State, a loss drops them to 0-4 in Big 12 play, a place Matt Campbell has not been in a long time with this program. But a win proves that this team is trending in the right direction, despite some close losses, during what has been a re-building season. 
Bryan Clinton
There is a Showdown in Cow Town this weekend with the eighth-ranked Oklahoma State Cowboys heading to Fort Worth to take on the 13th-ranked TCU Horned Frogs. Despite being ranked lower than the Pokes, TCU is actually a four-point favorite in this game. Teams with identical 5-0 (2-0 Big 12) records will clash for the right to be the "team to beat" in the Big 12 going forward in 2022. I love both offenses in this game, and they are among the nation's best in putting points on the board. This game is going to be crazy fun to watch, and the quarterback battle between Max Duggan and Spencer Sanders might be the best that we see this weekend. If you aren't tuned into ABC at 2:30 p.m. on Saturday, then what are you doing?
Derek Duke
When you look at the slate for this weekend it is clear that one game is bigger than all the rest. That game of course is Oklahoma State at TCU. Both teams are undefeated, in the top fifteen and on top of the Big 12 standings. Most of us knew that Oklahoma State was going to be good again this season with Spencer Sanders coming back as well as some of the defensive pieces returning. However, NOBODY saw TCU going 5-0 this season and who knew that Max Duggan would become a superstar this year? I certainly didn't but what I do know is that this is going to be a fun game with plenty of drama. If you can only watch one Big 12 game on Saturday, then this is the one to watch.
Matthew Postins
Oklahoma State at TCU: Since I'll be there, I have to pick this game, right? But it is the biggest game in the league, and one of the biggest in the country. It's one of three games that pit undefeated teams against each other this weekend. Both the Cowboys and the Horned Frogs are in the Top 10 in scoring offense. And while the Big 12, overall, is a better defensive league than in years past, both of these teams are struggling on the defensive end. This is going to be an old-fashioned Big 12 shootout. Lots of points on Saturday from both teams. Should be fun.