Big 12 News
Brett Yormark Set to Visit Oklahoma, Texas in Coming Weeks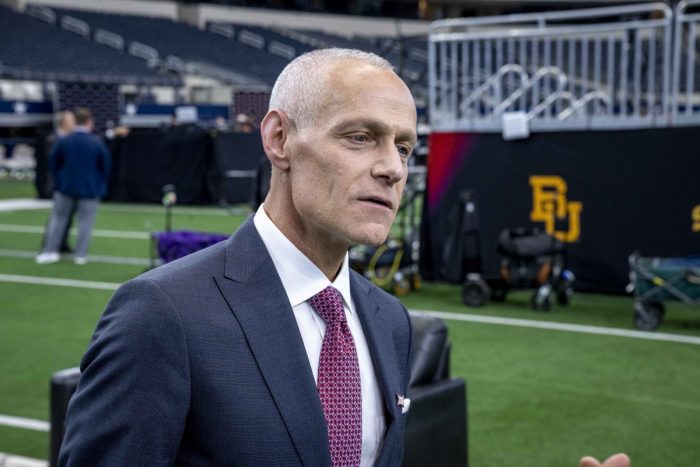 KANSAS CITY, Mo. — Big 12 commissioner Brett Yormark will pay visits to both Oklahoma and Texas for football games in the coming weeks, he said on Tuesday.
Yormark embarked on a listening tour of all of the remaining eight Big 12 schools shortly after he took over as commissioner on Aug. 1. He has also paid visits to the four incoming Big 12 schools that will become members on July 1, 2023 — BYU, Cincinnati, Houston and UCF.
But, he hasn't visited Oklahoma and Texas, which are both headed for the SEC in 2025.
That will change soon, as Yormark has planned visits to football games at both schools. He did not say which football games he will attend.
As for whether the Longhorns and Sooners are looking for an early out, Yormark said the two schools have reiterated their commitments to the Big 12 through the end of the grant of rights, which is through the 2024-25 athletic year.
This comes on the heels of the league's meetings last week, which included all membership and was Yormark's first as commissioner.
"They committed themselves in advance of me getting here and they've reiterated that commitment," Yormark said. "So they'll be here for the duration. And my relationship with Texas and Oklahoma is very, very strong."
There are good financial reasons for the two schools to remain part of the Big 12 through the grant of rights. Each will owe the league $80 million regardless of when they leave because the league has an exit clause that requires that payment if a team changes conferences. If the two teams try to leave before the grant of rights ends, each could reportedly owe another $100 million.
While the schedules for Big 12 football will not be released until December, the 2023 SEC football schedule is already out and does not include Oklahoma or Texas.
You can find Matthew Postins on Twitter @PostinsPostcard