Baylor Bears
Men's AP Top 25 Poll: K-State and TCU Rise, Kansas Falls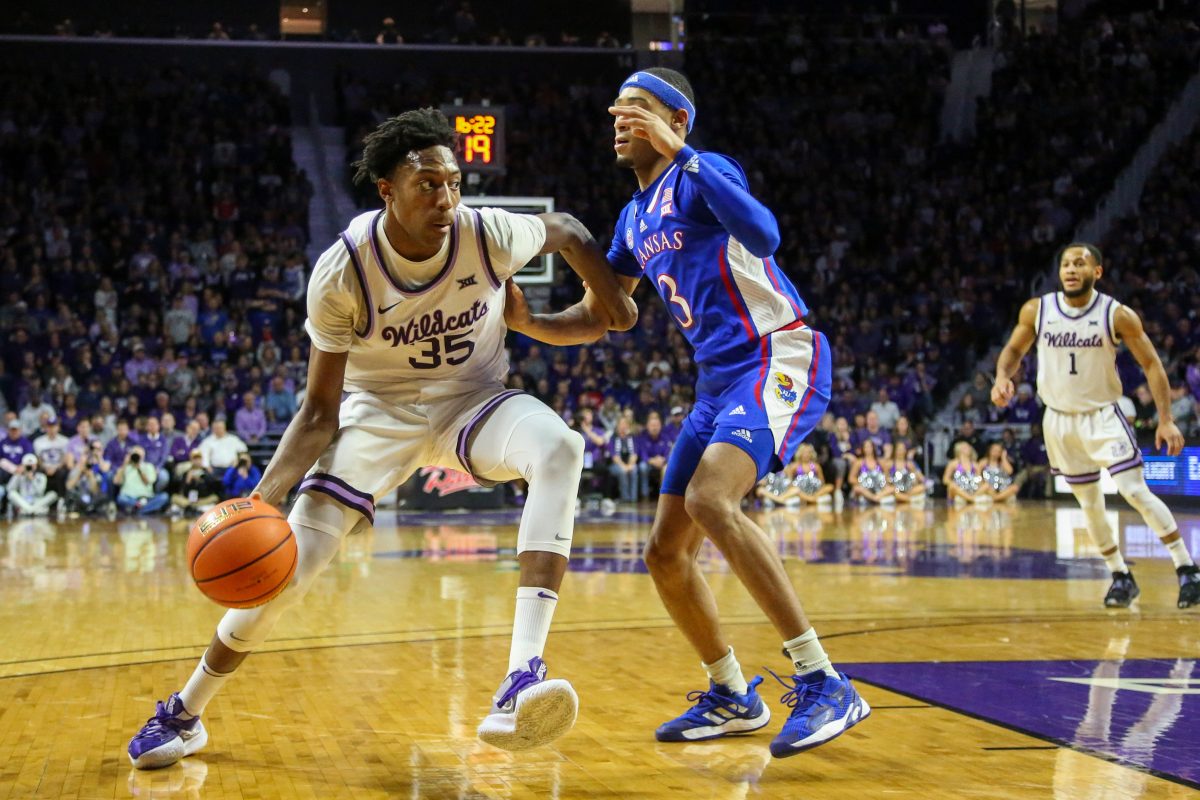 Six Big 12 teams are among the nation's best as the Associated Press Men's Basketball Top 25 was released after the season's 11th week of games.
Here are our three thoughts on the poll from a Big 12 perspective.
Tuesday Night Just Got Big
Tuesday's game between Iowa State and Kansas State at Hilton Coliseum will be a matchup of Top 25 teams. The game will be televised on … checks notes … ESPNU. Well, thank goodness for that. Would hate for the country to miss what may be the best Big 12 game of the week.
Kansas State was obviously due a serious bump after beating Kansas at home in overtime. The Wildcats held for the week by beating Texas Tech at home on Saturday. I was curious to see how BIG the bump would be, given K-State was No. 13 last week and there was an abundance of chaos above it. Kansas State ended up at No. 5, an eight-spot surge.
I was more curious about Iowa State. The Cyclones beat Texas at home, giving them a Top 25 win. But then they lost in a close one on the road to Oklahoma State in a game in which ISU didn't have guard Caleb Grill for a half. I wondered if voters would take that into consideration. The Cyclones were No. 12 last week. They're No. 12 this week. I'm a little surprised the Cyclones didn't get a small bump as a result of beating Texas, which remains ahead of ISU at No. 10.
It's going to be a big one in Ames on Tuesday.
TCU's Boost
I thought the Horned Frogs would take a bit of a drop this week after losing to West Virginia on the road. Then, TCU turned around and beat Kansas on the road. By 23 points. So, that was something I didn't expect.
So how did voters take to that? TCU was No. 14 last week. Yes, the Horned Frogs were a spot behind Kansas State, which they beat last Saturday. This week? The Horned Frogs are No. 11. So, for future reference, a win at Allen Fieldhouse is worth at least a three-spot bump.
TCU's week starts with a home game against a desperate Oklahoma team, followed by a trip to Mississippi State for the Big 12-SEC Challenge. An undefeated week should hold them steady.
Kansas' Big Drop
We knew Kansas would drop after losing two straight games to Kansas State and to TCU. The only question was how far?
The answer? Seven spots. Kansas was No. 2 last week, behind future Big 12 member Houston (which lost on Sunday to Temple). This week, the Jayhawks are No. 9. Curiously, Houston only dropped to No. 3 after losing to the Owls.
Kansas has some issues and they need some stabilization this week. But it won't be an easy week. Monday's game will be against No. 17 Baylor, which has won four straight. Saturday it's a trip to Kentucky.
The Jayhawks will have to start solving their issues against two of the best teams they'll face all season.
This Week's AP Top 25 Poll
No. 1 Purdue, No. 2 Alabama, No. 3 Houston, No. 4 Tennessee, No. 5 Kansas State, No. 6 Arizona, No. 7 Virginia, No. 8 UCLA, No. 9 Kansas, No. 10 Texas, No. 11 TCU, No. 12 Iowa State, No. 13 Xavier, No. 14 Gonzaga, No. 15 Auburn, No. 16 Marquette, No. 17 Baylor, No. 18 Charleston, No. 19 UConn, No. 20 Miami (FL), No. 21 Florida Atlantic, No. 22 Saint Mary's, No. 23 Providence, No. 24 Clemson, No. 25 New Mexico. Big 12 teams receiving votes: None
You can find Matthew Postins on Twitter @PostinsPostcard.