Baylor Bears
Women's AP Top 25 Poll: Respect for Oklahoma, Iowa State Stays Put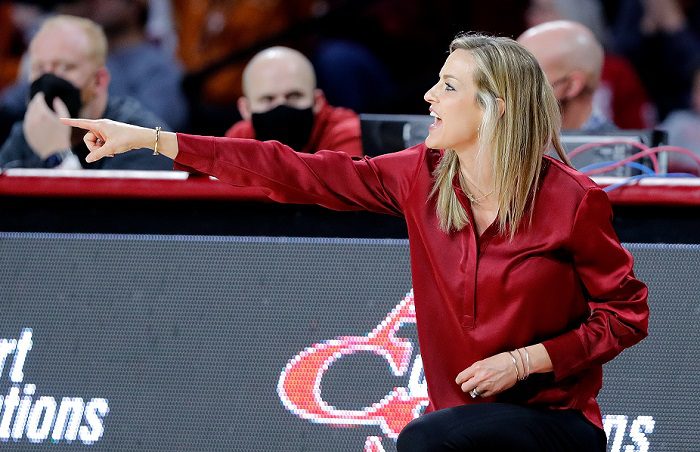 Two Big 12 teams are among the nation's best as the AP Top 25 Women's Basketball poll, released on Monday after Week 11 of the season.
Here are our three thoughts on the poll from a Big 12 perspective.
Respect for OU
After covering the Bedlam game with Oklahoma State on Saturday, I came away with the sense that the Sooners are playing the best basketball in the conference right now. Hence, their ranking of No. 14 is the best among the two Big 12 teams ranked. As it should be.
Yes, the Sooners give up a lot of points. But they also score a lot of points and they like to have fun (and OU coach Jennie Baranzcyk has a whole philosophy around that I'm going to dig into this week). That may catch up to OU eventually. Heck, it could happen this week.
The Sooners go on the road to face Texas and then to Ames to take on Iowa State. Texas was ranked before losing to Texas Tech last Wednesday. Iowa State remains ranked. The Sooners haven't played Texas yet and they beat Iowa State earlier this month.
If the Sooners win both, they'll not only have a cushion at the top of the Big 12, they'll get to mainline unranked opponents for basically the rest of non-conference (though two of those games are against Baylor). I know we have more than a month to go, but we could be looking at the No. 1 seed in the Big 12 Tournament in Kansas City.
Meanwhile, Iowa State
I'm not sure the Cyclones have figured everything out in the wake of the injury to center Stephanie Soares. But Ashley Joens solves a whole lot of problems.
The Cyclones are No. 18 this week, same as last week, and that's probably an appropriate place after beating Oklahoma State and Kansas. The Cyclones get TCU on Wednesday, and the Horned Frogs are winless in Big 12 play. Then it's the Saturday game with OU.
To me, that's the game that determines whether Iowa State can challenge Oklahoma for the No. 1 overall seed in the Big 12 Tournament. Win that game, and the Cyclones have a chance. Lose it? And the Cyclones are (likely) two games back with two games against Baylor and another against Texas ahead.
ISU lost by three to OU without Soares when they player earlier this month. It could be the best game of the weekend.
So … What's Happening With the Rest?
Just two Big 12 teams ranked when there were five ranked just a few weeks ago? What gives?
Texas lost to Texas Tech last week, their own version of Big 12 kryptonite, and dropped out after finally cracking the poll again. Guard Rori Harmon suffered a hard fall against Baylor on Sunday and we're waiting to hear how serious it was, given she didn't return. Aaliyah Moore is out for the year. The chemistry just isn't there, but they could go on a run in February.
Same goes for Baylor, but it all depends on whether Aijha Blackwell can get on the floor consistently. Baylor has great guards and a consistent inside presence from Caitlin Bickle. But Blackwell is an X-factor the Bears need.
As for the rest, Kansas might be the best shot to slip back in there, since the Jayhawks were ranked for a month. But it's now clear they're not as close to the top of the league competitively as I thought in December. Four of their five losses have been in league play, three to ranked teams.
There's more parity in this league than I expected this year. Actually I expected more parity. I just expected it more at the top of the standings and not in the middle.
This Week's AP Top 25 Poll
No. 1 South Carolina, No. 2 Ohio State, No. 3 Stanford, No. 4 LSU, No. 5 UConn, No. 6 Indiana, No. 7 Notre Dame, No. 8 UCLA, No. 9 Utah, No. 10 Iowa (tie), No. 10 Maryland (tie), No. 12 Virginia Tech, No. 13 Michigan, No. 14 Oklahoma, No. 15 North Carolina, No. 16 Duke, No. 17 Gonzaga, No. 18 Iowa State, No. 19 Arizona, No. 20 NC State, No. 21 Villanova, No. 22 Illinois, No. 23 Middle Tennessee, No. 24 Florida State, No. 25 Colorado. Big 12 Teams Receiving Votes: Texas, 35.
You can find Matthew Postins on Twitter @PostinsPostcard.