Kansas Jayhawks
Bill Self Will Rejoin Jayhawks 'Full Speed' if KU Reaches Sweet 16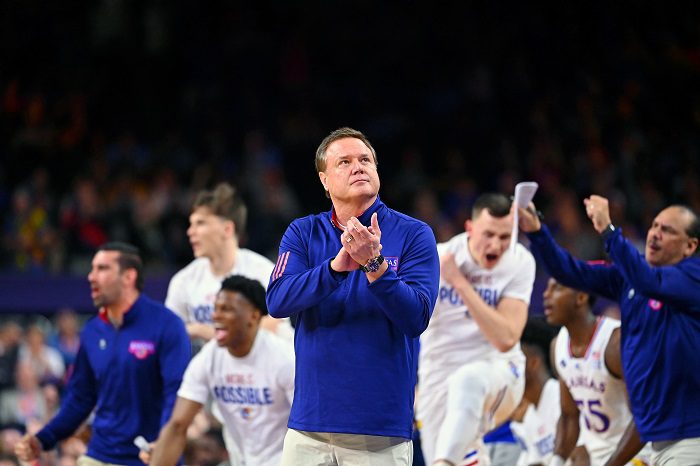 Bill Self isn't on the bench tonight for the top-seeded Kansas Jayhawks' contest against No. 8 seed Arkansas. However, he's expected to be back next weekend, if the 'Hawks advance.
"Well, I'm not gonna coach, but we're obviously in great hands with the staff, Norm [Roberts] and the staff," Self said in a pregame interview."I'm feeling tons better. I've got my energy back to an extent, sleeping better, doing things that they said was important to be on the mend quickly, just probably not quite quick enough. You know, we met as a group with doctors and a lot of consultations and everything and we think it's best that we rejoin the team full speed going next week. So, we obviously need to play pretty well today."
Self missed the entire Big 12 Tournament after a health emergency last Wednesday night forced him to go to the hospital, and while the recovery process is going well for Self, the team will be without him again on Saturday.
Self went into the hospital complaining of chest tightness and balance concerns, and after an assessment, he underwent a standard heart catheterization and had two stents placed for the treatment of blocked arteries.
Self missed KU's game against Howard in the first round, which they went on to win by 28 points in the No. 1 vs. No. 16 match up in the West Region of the 2023 NCAA Tournament.
Assistant Norm Roberts will once again serve as acting head coach for the Jayhawks. KU is looking to defend its National Title from 2022. The No. 8 seed Razorbacks beat the No. 9 seed Illinois 73-63 on Thursday in their first round match up.
Kansas and Arkansas tip off at 4:15 CST on CBS for a trip to the Sweet 16.