Iowa State Cyclones
Iowa State Signee Addy Brown on Recent Exodus From Program: 'We're Not Worried About It'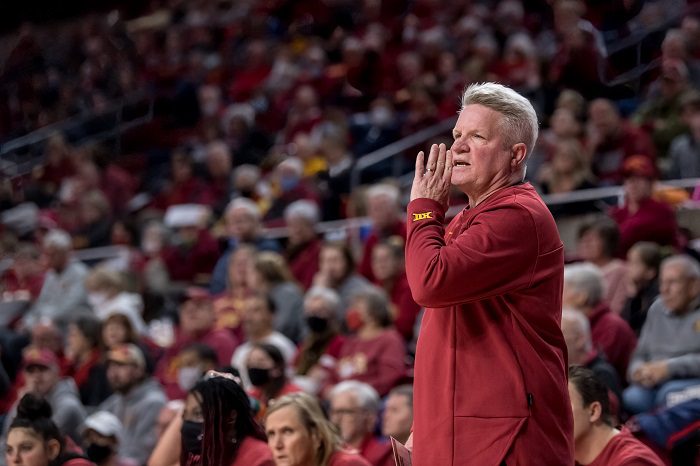 Addy Brown is a McDonald's All-American, so it's safe to say she's a major addition to the Iowa State Cyclones' program. And if Cyclone Nation is needing some good news in light of five players entering the NCAA transfer portal over the last 11 days since the conclusion of the 2022-23 season, Brown is here to give it to you.
"We're not too worried about it," Brown told CycloneFanatic.com about her class' reaction to all the departures. "Everyone has a different path and a different view and those players chose to take that path – that's OK, we wish them the best, but I think the class coming in has just bought in to what the coaches want to do. We're not too worried about it."
In fact, the group of five is all-in, she insisted. It's set to arrive this summer in Ames.
"Yeah, we're 100 percent committed still," Brown told the organization.. "We've talked about it among ourselves, too, and I think – like I said, everyone's path is different – but we know where we want to be and that's in Ames, Iowa, playing in Hilton under one of the best (coaching) staffs to ever do it."
Out of Derby, Kan., Brown is Iowa State's highest-rated signee, at No. 31 on the ESPNw/Hoop Gurlz Class of 2023 rankings. She's joined by forward Jalynn Bristow, from Wichita Falls, Texas, center Audi Crooks, from Algona, Iowa, guard Arianna Jackson, out of Des Moines, Iowa, and guard Kelsey Joens–you might have heard that name before–from Iowa City. The quintet ranked 10th in the 2023 ESPNw/HoopGurlz Recruiting Rankings.
Head coach Bill Fennelly, who will gladly welcome those five on campus this summer, saw his team finish with a 22-10 record after they were ousted by Toledo 80-73 in the first round of the NCAA Tournament. His Cyclones previously won the Big 12 Conference Tournament over Texas.