Big 12 News
Deuce Vaughn Selected No. 212 by Dallas Cowboys in NFL Draft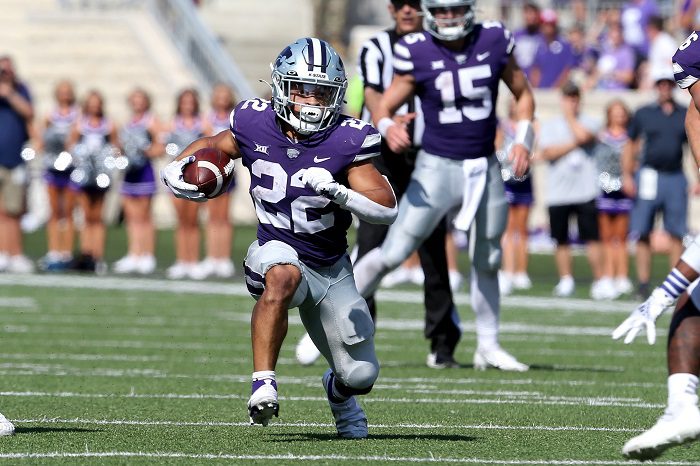 One of the shiftiest players in the country has found its new home after the Dallas Cowboys selected Kansas State running back Deuce Vaughn with the 212th pick in the sixth round of the 2023 NFL Draft.
Vaughn is a name that Big 12 fans are well aware of regardless of which team in the conference they support as Vaughn has had prolific numbers against just about everybody.
Vaughn is a two-time All-American for the Wildcats, and while he was one of the most outstanding backs in college football, his size made teams skeptical. Vaughn stands 5-foot-5 and is the smallest player ever measured at the combine.
While many teams stayed away from Vaughn and went in other directions, the Cowboys knew what they had in Vaughn add adding him to a backfield that features Tony Pollard and Malik Davis in the brutal NFC West.
"Ordinarily, a late sixth-round pick wouldn't be all that notable," wrote CBSSports.com's Jared Dubin. "But this pick was special. Vaughn's father, Chris, is Cowboys' assistant director of college scouting, and he is in the draft room helping the team make its picks. The selection of his son brought Vaughn to tears, and he went around the room hugging everyone he could find. The team then put Vaughn on the phone to make the call to his son, informing him that they would now be members of the same organization."
Deuce Vaughn notched just about every statistic in his college career rushing for a total of 3,604 yards for 34 scores as well as 1,280 receiving yards and nine scores through the air. One of the fears with Vaughn was his usage in college with blank carries in three seasons.
The usage didn't worry Dallas and with Deuce Vaughn headed to the Cowboys the future ahead looks bright.