Big 12 News
K-State Transfer Ismael Massoud Commits to Georgetown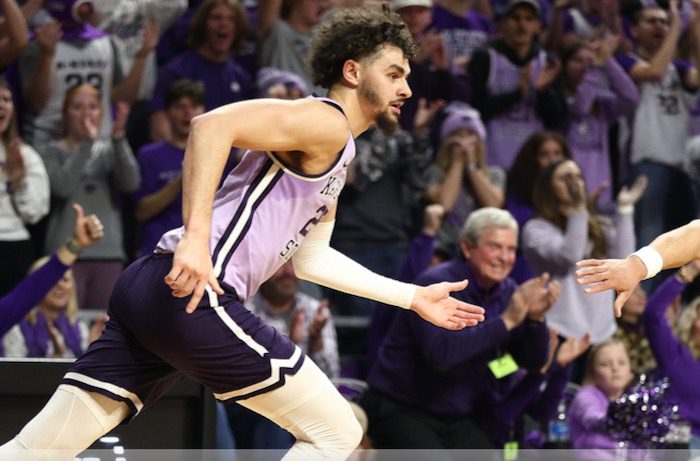 Former Kansas State forward Ismael "Ish" Massoud has found his new home, announcing his commitment to Georgetown via Twitter on Friday.
Massoud, a 6-9, 225-pound grad transfer, averaged 5.4 points and 1.7 rebounds in 15.3 minutes per game for the Wildcats this season, helping them finish third in the Big 12 with an overall record of 26-10.
A native of Harlem, NY, Massoud will now be back much closer to home in Washington D.C., playing for Ed Cooley and the Hoyas.
"Georgetown is a great university to get a degree from in my last year while coach (Ed) Cooley is a proven winner and great coach," Massoud told On3. "The opportunity to come close to home while playing in a system that forwards, especially ones with my skillset, do really well in. Also, get to play for a coach that values my strengths as well as has shown to do well with transfers throughout his career."
Massoud began his career at Wake Forest before transferring to K-State two seasons ago. After sticking around for the Wildcats' first season under coach Jerome Tang, he felt that it was in his best interest to look for other opportunities, no matter how much he loved Manhattan.
"To the fans and people of Manhattan, my time here has helped me find a new home, y'all welcomed me with open arms and showed me so much love over my two years here," Massoud said when transferring. "I'll be a Wildcat for life."
In K-State's Sweet 16 victory over Michigan State, Massoud had a season-high 15 point on 4-6 from three in front of his friends and family at Madison Square Garden. Now, just a few hours south of there, Massoud will spend his final year of eligibility playing for a historic basketball program in Georgetown.