Trending Now
EA Sports to Allow Players to 'Opt-In' to 2024 College Football Game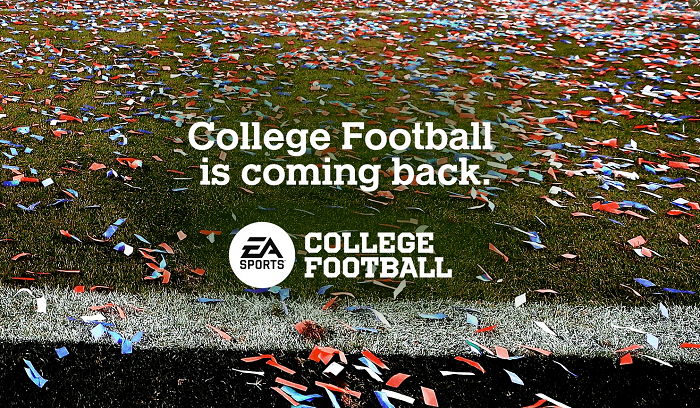 The much-anticipated return of a licensed College Football video game has had fans salivating for two years now since it was announced back in 2021.
Originally, the game was rumored to release in the Summer of 2023 but was officially scheduled for 2024 so that EA could produce the best possible experience for fans.
"While many expected 2023, EA Sports explains that this is necessary to ensure that their development team can build the best college game possible with the detail and the gameplay that they are known for delivering to fans," marketing group CLC president of business development Dave Kirkpatrick wrote.
Another important factor for the timeline of the game's return is the presence of new Name, Image, and Likeness (NIL) rules. Because EA Sports did the right thing by delaying the release and letting time take care of some of the red tape, the video game brand has now partnered with OneTeam for group licensing, according to ESPN.
"We've wanted to feature collegiate athletes in a meaningful way from the start of our journey to bring an EA Sports college football experience back to our fans," the company said in a statement. "We're excited to have an agreement in place with OneTeam Partners that will enable us to include the names and likenesses of eligible collegiate football athletes at NCAA Division 1 Football Subdivision schools who opt-in to being featured in EA Sports College Football."
This partnership will allow college football players to "opt-in" to the game and have their likeness in EA Sports College Football. So, what does that mean? Well, exactly what it sounds like. Participating players will have virtual replicas, some of them even potentially with face scans, that will be playable in the new game.
So, what happens if a player doesn't want to be in the game? According to the ESPN report, if a player decides they don't want to be in the game, EA Sports would create a generic avatar and player to take that player's spot on the in-game roster.
With one of the most beloved sports games in history coming back to screens around the country, this new development is an exciting one and brings us one step closer to the realization of it officially being back. Hold on just a bit longer football fans, it's almost here.