Trending Now
Big 12 Warned to Not Get in the Way of Adjusting CFB Playoff: Report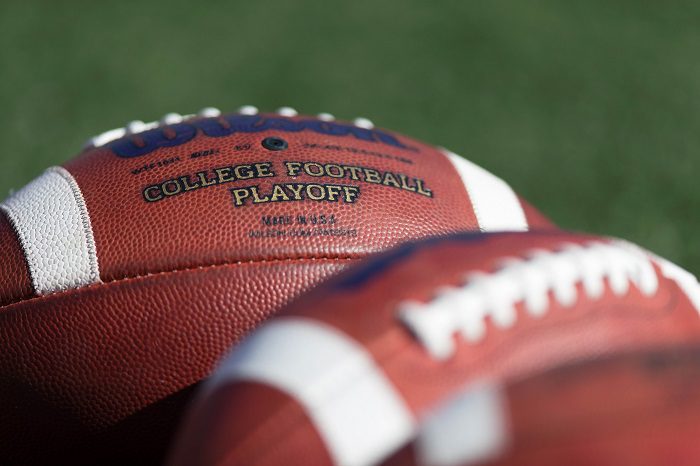 While conference realignment has both benefitted and hurt certain aspects of college football this offseason, one major change on everyone's mind is the impact of expansion on the College Football Playoff.
According to a recent report from the New York Post's Ryan Glasspiegel, sources claim that any conference not named the SEC or the Big Ten attempting to get in the way of how the two leagues construct the future playoff is risking "Pac-12-ing themselves" out of the tournament.
"One source cautioned to The Post that the other conferences risk implosion along the lines of the Pac-12, which greatly overvalued itself in network rights negotiations, if they stand too obstinately in the way of what the Big Ten and SEC want," Glasspiegel writes.
The original rules of the expanded CFP Playoff included a 12-team field made up of the six highest-ranked conference champions, and six at-large bids. With the Pac-12 Conference facing either its inevitable doom or a merger with the Mountain West, the expanded college football playoff rules have been put under the microscope with the loss of a "worthy" conference champion coming out of the PAC-12.
While the rules will undoubtedly be reviewed and adjusted, the current CFP selection process is about as close to unfair as it can be. While six at-large bids and six conference champions would have made for a great playoff, I would expect things to flip around in order to cater to that of the two leagues at the top.
The College Football Playoff Committee is set for an official meeting on August 30th, and while official changes to the expanded playoff may take a while to agree to terms on, as the Brett Yormark and the Big 12 continue to increase their notoriety in college athletics, the decision to cater to the top could get a bit trickier.