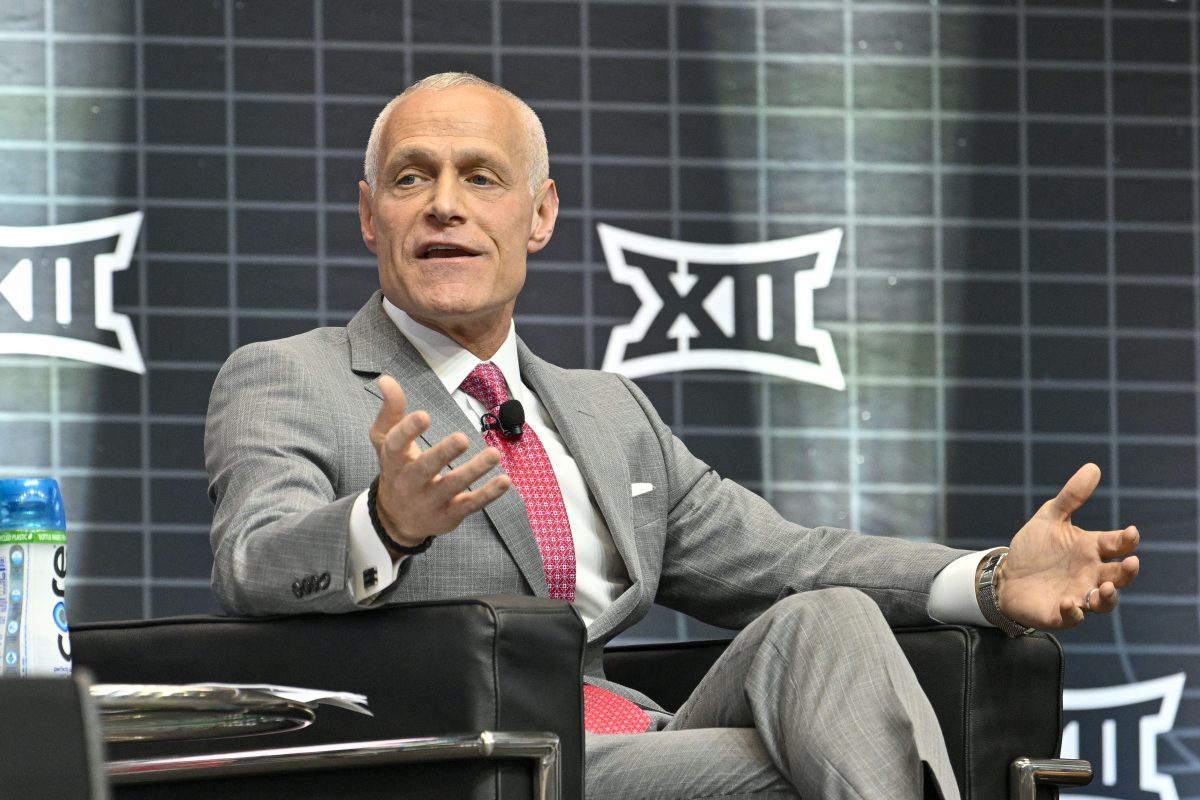 Stop me if you have heard this before: Texas fans are not happy right now. We aren't even playing football games yet and the Burnt Orange faithful is already fired up. It would be one thing if this was November and they had already lost four or five games, but the season hasn't even started yet, and people are already losing their minds.
What on earth could cause such a frenzy? Well, Big 12 commissioner Brett Yormark was at the annual Red Raider Club kickoff luncheon in Lubbock on Wednesday, and he wasn't shy at all about his feelings toward the Texas Longhorns. "Candidly, we were able to get Texas and Oklahoma out a year early. That was a big deal for us, and I think all of you," Yormark told a gathering of Texas Tech supporters. "And coach (McGuire), I'm not going to put any pressure on you, but I'm going to be in Austin for Thanksgiving, OK? And you'd better take care of business like you did right here in Lubbock last year."
I already talked about this in a previous article, and I told the Texas fans to put away the evidence board.
It's nobody's fault but their own that they lost five games last season. If you are looking for someone to blame, then blame Steve Sarkisian for not doing his job.
It's already bad enough that the Texas fans are upset, and I can see the excuses coming from a mile away. When they lose their first Big 12 game of the season, you just know it's going to be the Big 12's fault. But from what I saw, it's more than just fans that are mad about this. On Wednesday night, Austin sports anchor Cory Mose went on a little rant that went viral regarding Brett Yormark's comments.
Mose called the comments by Yormark classless, clueless, and calculated. So, I decided to give this video a listen and break it down for you in the only way I know how, with a laptop and a cold beer by my side.
Classless
Mose says that as the Big 12 commissioner, you are supposed to look out for every team in the conference without playing favorites. He then checked his watch to make sure that Texas was still in the conference. He also mentioned that Yormark's comments were unprofessional and childish.
I want to start by saying that Brett Yormark was talking to Texas Tech supporters at this event. Do you think Yormark is going to show any sympathy to one of the schools on the way out of the conference? Personally, I think Yormark's comments had a little bit of truth in them but at the same time, he certainly did it for a good laugh. Heck, I remember someone asking Bob Bowlsby how great it felt not having Texas or Oklahoma in the 2021 Big 12 championship game and Bob responded with "Well, what do you think?" If you want to talk about unprofessional and childish then why not bring up Texas running to the SEC commissioner Greg Sankey behind the Big 12's back? Texas did everything in their power over the last ten-plus years to try and ruin this conference.
Clueless
Mose mentioned that considering what the Big 12 is losing, Brett Yormark is clueless. He mentioned that Texas and Oklahoma won Big 12 titles in soccer, swimming, rowing, basketball, baseball, gymnastics, and track. He lost count of how many there were and talked about Texas and Oklahoma winning a majority of the Big 12 titles.
Notice that he didn't mention football? For a school that loves to talk about how much money they have and how deep their pockets are, I find it funny that they struggle so much in the biggest money-making sport. We all know that football is king and that the sport helps fund the rest of the athletic department. Outside of basketball, all those other sports he mentioned aren't money-makers. Ask any Texas fan in Austin and see if they would be willing to trade all those swimming and rowing titles for just ONE Big 12 title in football over the last 12 years. They wouldn't even let you finish the question, and they would say yes. Also, Brett Yormark was talking about a football game here. OF COURSE, someone just had to bring up swimming titles for Texas because that has made up 80% of the hardware in the trophy case over the last decade.
Calculated
"This isn't just something you walk up to the mic and say as the commissioner. Especially at a school that hates Texas maybe more than Oklahoma does." Mose says. "The problem is maybe you didn't calculate enough. I would have pulled that shenanigan at TCU if I am being honest. Not the school that school that got a 70-piece put on them last time they came to Austin."
Well, this time I am going to look at my fake watch here and say that the last time Tech was in Austin, Joey McGuire wasn't the head coach. He was at Baylor then, and that Baylor team defeated Texas. And if you want to look at the smartwatch, google the score of last year's Texas Tech/Texas game and let me know who won that one. It's also funny that he mentioned TCU because that is just yet another program in the Big 12 that has done more on the football field than Texas since joining the conference back in 2012. I am no math wizard, but I would say that Cory's comments on this whole thing don't add up very well.