BYU Cougars
Best Big 12 Futures Bets for 2023 College Football Season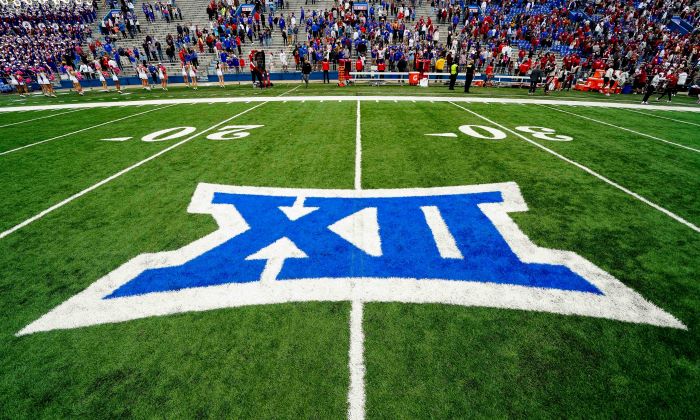 We made it! College Football is back and for the Big 12, a season that is both the beginning of a new era and the end of its origins. Let's take a look at a few of the best season win totals and futures bets in the Big 12 for the upcoming season.
Kansas Jayhawks over 6 wins -150 (Odds at DraftKings Sportsbook)
The darlings of the first month of last year's season, the Jayhawks had an elite offense when Jalon Daniels was healthy en route to a 5-0 start before losing six of their last seven games. The Jayhawks' offense was just unable to outpace their poor defense without Daniels, but on the positive side, Kansas did make their first bowl since the 2008 Orange Bowl. Looking ahead to this season, the Jayhawks return 10 of their starters on offense including Daniels and all of their good skill position players. I look for Jalon Daniels to be in the Heisman Trophy mix (currently 100/1 at DraftKings) and for running back Devin Neal to have a massive year. The schedule is pretty manageable with the only regular season game that I don't see them having a chance to win being the game in Austin. The swing games to get to this over will be the Week 2 non-conference showdown against a solid Illinois squad and the two games against newcomers UCF and Cincinnati. Win those three games and the Jayhawks' getting to 7 wins should be a breeze. I do have even higher aspirations for this Kansas team as you will see later in this column.
BYU Cougars under 5.5 wins -145 (Odds at DraftKings Sportsbook)
Welcome back to conference football BYU! It's going to be a rude awakening for BYU in 2023. Even though there is a legitimate argument to be made that the Cougars will have the easiest transition to the Big 12 of the four newcomers, the 2023 schedule is more difficult for the Cougars than it was in 2022. Losing Quarterback Jaren Hall to the NFL is a big deal, even though the Cougars went out and got an established collegiate starter in Kedon Slovis through the portal. Going from Hall to Slovis is a downgrade in Provo and with a new-look backfield and three new starters on the offensive line, I am concerned about the Cougars' offense. On defense, BYU returns eight starters but their inability to slow down the run a year ago will be a problem again for the Cougars in 2023. We'll know early if this bet is a winner or a loser. If Arkansas and Kansas handle their business against BYU, we'll be in great shape to score the under on the Cougars.
(Quick note, there are a lot of different season win total numbers out there on BYU at different sportsbooks. Make sure you get the 5.5. 5 is fine but laying more juice on the 5.5 to secure a win instead of a push is worth it!)
Dillon Gabriel Over 3,025.5 Passing Yards -115 (Odds at DraftKings Sportsbook)
It's Year 2 in Norman for Brent Venables, but the real star of the show for OU will be their quarterback, Dillon Gabriel. There is no question that the 6-7 of a year ago was just growing pains for a new coaching staff that was getting their legs underneath them. Even with the uneven coaching, Gabriel still threw for 3,168 yards, and that included three games with only 200 yards passing. I understand that teams are going to throw for more yards when chasing games like the Sooners were last season, but I expect the offense to be more consistent in 2023. Oklahoma has a very soft first five weeks to their schedule so look for Gabriel to rack up the yardage in that first month plus. I expect a big year from the Sooners passing game and Gabriel should end up closer to 3,500 passing yards than the 3,026 yards that he needs to win us this play.
Kansas State to have more Regular Season Wins than TCU -155 (Odds at DraftKings Sportsbook)
Good work by DraftKings to put this prop up as we get a head-to-head season-long matchup with the teams we saw in last year's Big 12 Title Game. If we are just looking at individual season win totals for both of these teams, Kansas State is at 8.5 (Over +135) and TCU is at 7.5 (Over -130). Based on those odds, the right number for both of the expectations is that both teams will finish at 8 wins. TCU's magic carpet ride to the National Championship Game is not going to be replicated in 2023, to say the very least. The Horned Frogs have to replace their Quarterback (Max Duggan) and their two best skill position players (Kenadre Miller and Quinton Johnston). Most importantly, it is basically impossible to have the luck they had in close games again. I see TCU as a six-win team with eight wins being the absolute ceiling. Kansas State has seven home games on the schedule in 2023 and I like the Wildcats to win all seven of those games. In order to get to eight wins, they'll need to win one road game which the Wildcats should be able to do. And even if K State goes winless on the road, an undefeated 7-0 in Manhattan may still be enough to win this prop.
Kansas Jayhawks to win Big 12 Championship Game 40/1 (Odds at Caesars Sportsbook)
Alright, let's get crazy! I have already told you why I like the Jayhawks to get to over six wins but now we take it a step further. Kansas winning the whole darn thing in the final year of Texas and Oklahoma being members of the Big 12 may seem like absolute lunacy but when you have the quality of offense that the Jayhawks have, it is possible. Now let's get to the first task, making the Big 12 Championship Game. Yes, Kansas has a manageable schedule, but they did draw both Texas and Oklahoma so losing both of those games could eliminate them from making it to Arlington. But Kansas gets the Sooners in Lawrence and that gives the Jayhawks a fighting chance. The remaining home games on the schedule for Kansas are BYU, UCF, Texas Tech, and Kansas State. The games against the Red Raiders and Wildcats come in the final two weeks of the season, which is going to be completely chaotic because I expect at least five teams to be alive for the two spots in Arlington. If Kansas finds a way to beat both Texas Tech and Kansas State, they will be as alive as anyone to be in Arlington. The road slate is great other than the trip to Austin. Trips to Stillwater, Ames, and Cincinnati are all games that Kansas would be favored in if the games were in Lawrence and I expect the Jayhawks to be road favorites against Iowa State and Cincy. Just get Kansas to Arlington and there will be numerous hedging opportunities or a chance to let the 40/1 ticket ride!
That's all I have for you today. I'll be here on Friday with my favorite plays for Week 1 in the Big 12!