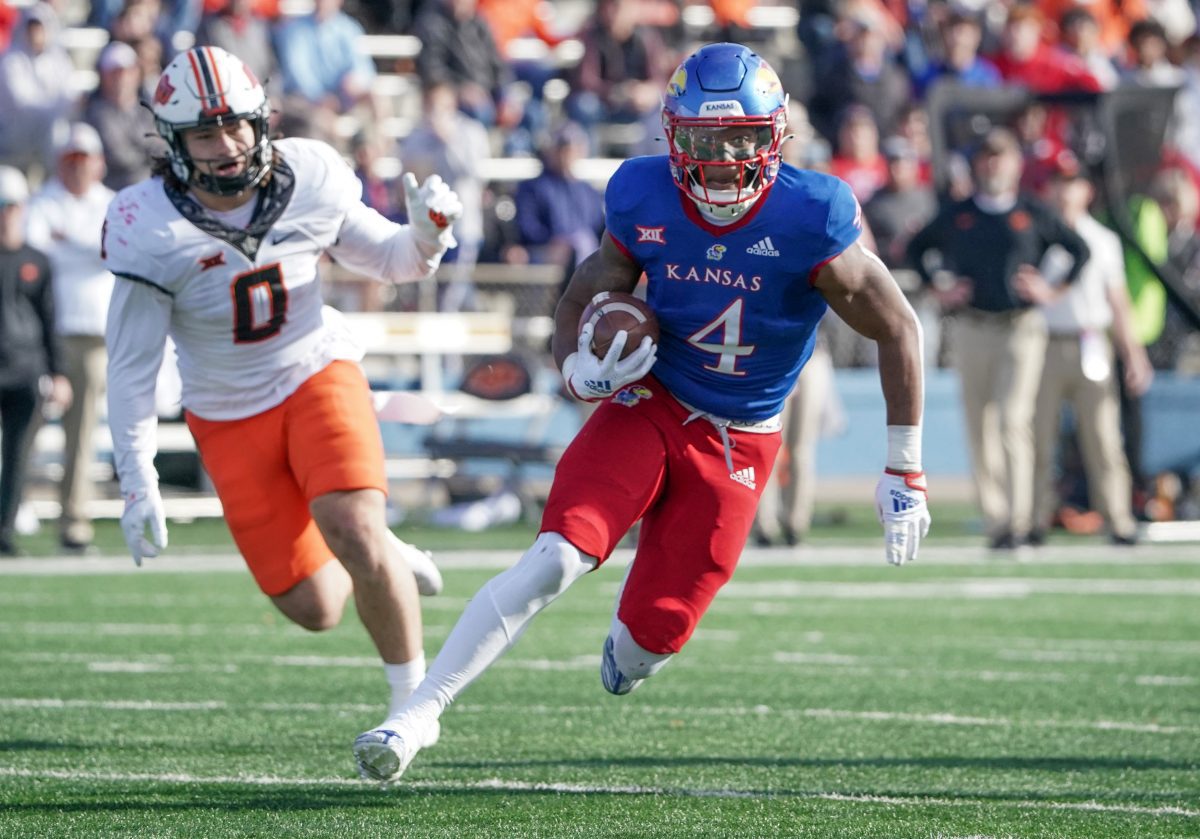 Here is everything you need to know about the upcoming matchup between the Kansas Jayhawks and the Oklahoma State Cowboys.
GAME INFO
Saturday, October 14, 2023; 2:30 p.m. CT; Boone Pickens; Stillwater, Oklahoma
TV: FS1
Radio: Jayhawk Radio Network (Brian Hanni, David Lawrence, Brandon McAnderson); Cowboy Radio Network (Dave Hunziker, John Holcomb, Robert Allen)
Records: Kansas (5-1, 2-1); Oklahoma State (3-2, 1-1)
Last Week: Kansas 51, UCF 22; Oklahoma State 29, Kansas State 21
Rankings: Kansas ranked No. 23 (AP); Oklahoma State unranked
Series History: Oklahoma State leads 41-30-2
Last Meeting: Kansas 37, Oklahoma State 15 (2022)
Line: Kansas (-3.5)
Fun Fact: Mike Gundy and the Cowboys will be underdogs at home against the Kansas Jayhawks for the first time since 2007, which is also the last time Kansas won in Stillwater (43-28). In fact, last year's 37-15 win over Oklahoma State is the only other loss to KU that Gundy has suffered, going 13-2 against the Jayhawks in his tenure.
KEY PLAYERS
KANSAS JAYHAWKS
RB Devin Neal
Coming into this game, Devin Neal ranks fourth in the Big 12 with 593 yards and tied for first in the Big 12 with six rushing touchdowns on the year. With an average of 7.7 yards per carry and 98.8 yards per game. Conversely, Oklahoma State ranks 11th in the conference and 84th nationally in rushing yards allowed per game at 154.0. Whether it is Jason Bean or Jalon Daniels at quarterback, Neal should be a focus of what Kansas tries to do this week, especially when the Jayhawks rank second in the Big 12 and sixth nationally with 232.2 rushing yards per game.
DL Austin Booker
While the defensive line was a major question mark for the Jayhawks coming into the season, it has become a strength of the team to this point. KU leads the Big 12 with 18 sacks through six games, and both Austin Booker (5.0) and Jereme Robinson (3.5) rank inside the top five of the conference in total sacks. Getting after Alan Bowman will be a key for Kansas in this game, which means guys like Booker and Robinson will need to be active.
OKLAHOMA STATE COWBOYS
RB Ollie Gordon
Alan Bowman has two full games under his belt as the starting quarterback in Stillwater and is completing just 53.3% of his attempts for 748 yards, two touchdowns, and three interceptions. In short, Bowman isn't going to be the guy that goes and wins a game for you, but RB Ollie Gordon can be. In Big 12 play, Gordon has turned 39 carries into 257 yards (6.6 ypc) and one score. The Pokes' offense will need to operate through Gordon for them to be successful, and that should be the case this week as well.
S Cameron Epps
In a true breakout game against Kansas State, redshirt freshman safety Cameron Epps recorded two interceptions, including a 35-yard pick-six to put Oklahoma State up 20-7 just before the half last week. In addition to the picks, he added two PBUs and five tackles in the game and gave a huge boost to a defense that has been disappointing until this week. While Kansas could end up running the football quite a bit this week, Epps will be tried in the run fits and will need to keep whoever is at quarterback under wraps.
KEY STORYLINES
KANSAS JAYHAWKS
Will the same team that showed up in Lawrence last week get off the bus in Stillwater this weekend? The Kansas team that ran for 399 yards and five touchdowns in a rout of UCF can come into Stillwater and take care of business. However, if the team that we saw against Nevada and Texas on the road is who shows up, Oklahoma State will be in this game until the end. If KU can get the win here, not only will they be 6-1, but they'll also go into their bye week with the chance to get Jalon Daniels healthy for a ranked matchup against Oklahoma in Week 8.
OKLAHOMA STATE COWBOYS
Can Oklahoma State sustain the level of success that we saw from them on Friday? The defense erupted for three interceptions after having just one through the first five weeks and scored 10 points off of those interceptions. In a game where they don't win the turnover battle 3-0, do they have the firepower to keep up with an offense like Kansas'? This game will be telling for the Cowboys and will be a stiff challenge with how well the Jayhawks are scoring points this season.
PREDICTION: Kansas 34, Oklahoma State 23
While last week was certainly promising for Oklahoma State, I think Kansas has too much firepower for the Pokes to keep up with. The Jayhawks have a chance to solidify themselves as a true Big 12 contender this week, and getting a win on the road this weekend would be huge for their confidence. The Jayhawks rank third in the Big 12 in interceptions and first in sacks, while Alan Bowman has an issue taking care of the football, and the OSU offense is dead last in the conference in efficiency (107.5). Give me Kansas to win and cover in this one.