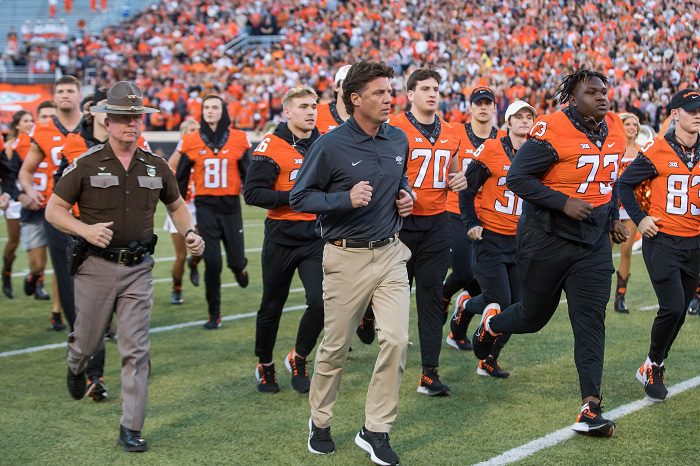 Oklahoma State staked its claim as a contender in the Big 12 title race on Saturday with a dominant fourth-quarter performance to take down West Virginia, 48-34.
The legend of Ollie Gordon continues to grow, as he turned in a career-best 282 yards and four touchdowns on 29 carries (9.7 yards per carry), giving Kasey Dunn a reliable weapon who has gone over 120 yards rushing in each of his last four contests.
After this weekend's win, Oklahoma State players gathered on the field to sing the alma mater, a tradition for the Pokes after every game. However, there was a problem: the Oklahoma State band didn't make the trip to Morgantown.
Queue another viral moment from Mike Gundy, who stepped in and led the team in the alma mater, band or not.
Saturday night was a big moment for Gundy and the Oklahoma State Cowboys, who got the 2023 season off to a rough start in nonconference play, dropping a game to South Alabama, 33-7.
After that point in the season, it seemed that Oklahoma State's bowl streak might come to an end. Then, the Pokes lost their Big 12 opener to Iowa State, who was perceived to be a bottom-tier Big 12 team at the time.
Well, all Gundy and the Cowboys have done since then is secure wins over Kansas State, Kansas, and West Virginia, all of whom have been impressive at one point or another this season. Now, Oklahoma State stands at 5-2 overall, and 3-1 in Big 12 play, and they've found an identity.
After their most recent win in Morgantown, the culture at OSU seems to be alive and well, and Gundy has the Cowboys right in the thick of the Big 12 race.